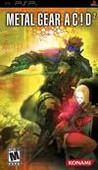 Summary:

Metal Gear Acid 2 features 3D visuals for the first time on the PSP. Utilizing the innovative new "Solid Eye" technology, key areas of the game's comic book style cell-shaded graphics explode off the PSP system screen in 3-D. To ensure that the 3D effects are the most technologically

advanced available in the marketplace, each game is be packaged with a state-of-the-art 3D viewing peripheral that is designed to make the effects realistic and eye-popping. The pioneering visuals are complemented by a card based strategic gameplay structure that is enhanced across the board with a complete tutorial mode, intuitive interface incorporating card based strategy and real-time gameplay, new Arena mode and more than 500 cards to use. Rounding out the package is the popular multi-player mode where players can use personalized decks to battle foes via the PSP system's wireless capabilities. Arena Mode – Fight classic boss enemies from previous Metal Gear games. Multiplayer Versus Mode – determine who the best MGA2 player is using the PSP system's wireless capabilities. Improved strategic gameplay, including card weapon upgrades and more 500 cards for use. Tutorial Mode – familiarizes novice players with the strategic gameplay in Metal Gear Acid 2. Import cards from the previous version of Metal Gear Acid. Game connectivity with MGS3: Subsistence – players can import photographs taken in MGS3: Subsistence and view them in 3D on the PSP system. [Konami]

…

Collapse

Developer:

Kojima Productions

Genre(s):

Modern

# of players:

1-2

Cheats:

On GameFAQs

Rating:

M
While the turn-based card battlin' combat might sound like the antithesis of edge-of-your-seat gaming, give Ac!d 2 a couple of hours of your undivided attention and I guarantee you'll be up to your eyes and ears in white-knuckle action.

Whereas Metal Gear Acid faltered slightly in its attempt to branch the MGS franchise out into a bold new direction, Acid 2 absolutely nails the concept with engaging turn-based strategy gameplay, a refined interface, quicker pacing, stylized graphics and an abundance of replay value, among other noteworthy attributes.

Tactical games never had it so good in the Ac!d series.

It's taken all the best bits of the first game, dressed them up, and created a game that both rookies and veterans will enjoy.

Although condensed into portable form, Kojima Productions' immense production values, characterisation and narrative style has been carried across flawlessly.

Alas, I guess if they removed the Metal Gear from this [game], then we wouldn't feel badly for calling it what it is: a decent, card-based strategy game that moves quickly and feels good, but is missing that real "x factor" to take it to the next level.

Metal Gear Acid 2 is over the top, with its visuals and substance. Fans of the original will like the new additions and expansiveness over the first, but there isn't enough here to draw haters of the first game to try it.