Publisher:

Konami

Release Date:

Nov 13, 2007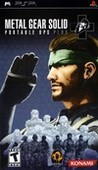 Summary:
Metal Gear Solid: Portable Ops Plus is a standalone addition to last year's award winning stealth action title of the same name. Focusing on a portable multiplayer experience, players will be able to enjoy more maps, more missions, and recruit a talented crew of war heroes for battling real opponents in online arenas. Features: Unique Gameplay Modes and Missions – A new single player mode, "Infinity Mission", and additional multiplayer modes will engage even the most experienced strategy veterans. Upload your saved data from the original Metal Gear Solid: Portable Ops to create instant squads. More Online Maps – Choose from a variety of new environment maps, such as an updated version of the REX Hangar area of the original Metal Gear Solid, for more multiplayer mayhem. More Playable Characters – Recruit brand new soldiers from the Metal Gear Solid universe, including Raiden and Snake from MGS4, to form a unique fighting crew. Wi-Fi HotSpot Support – As long as there is a Wi-Fi signal, you can be in the battlefield. With Wi-Fi HotSpot support, you can now play Metal Gear Solid: Portable Ops Plus online at any Wi-Fi HotSpot location. Improved Support – Tutorials and improved in-game support helps players of all skill levels to jump right into the action or hone their skills. [Konami]
Designer/Producer/Programmer credits provided by
GameFAQs
.
If you contributed to this game and feel you should be credited, please read our
FAQ
.
| | |
| --- | --- |
| 54 | |
| 48 | #48 Most Discussed PSP Game of 2007 |
| 55 | #55 Most Shared PSP Game of 2007 |