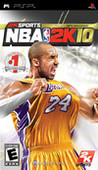 Summary:
MORE Signature Style - Originators of the critically acclaimed Signature Style feature, 2K Sports continues the tradition by adding even MORE Signature Style & tendencies providing gamers with an unbelievably realistic NBA experience. Accurate Rosters - The latest rosters transactions, ratings adjustments, contract lengths, and injured reserve placements continue to make NBA 2K10 as up-to-date as possible. Deeper Association - NBA 2K's super-deep franchise mode gets deeper with the addition of a slick NBA.com interface, development drills, player ambitions, and more. Head-to-Head Online Play - Compete head-to-head via ad-hoc wireless connectivity. [2K Sports]
Designer/Producer/Programmer credits provided by
GameFAQs
.
If you contributed to this game and feel you should be credited, please read our
FAQ
.