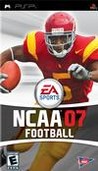 Summary:

Momentum changes everything - now college football's most celebrated videogame turns the tide with NCAA Football 07. Whether battling your biggest rival or playing for the first-ever BCS National Championship Game in Dynasty Mode, success on the field depends on your ability to maintain

momentum. Featuring unprecedented graphics that capture every moment in complete detail—from the authenticity of the stadiums, mascots, and marching bands, to the true-to-life look and feel of the players on the field. [Electronic Arts]

…

Expand

Developer:

EA Sports

Genre(s):

Football

# of players:

1 Player

Cheats:

On GameFAQs

Rating:

E
Even with the crippling "running bug" I had a much more enjoyable time playing NCAA Football 07 on the PSP. Of course my style of play favors the passing play so ground yards aren't a big deal with me. If you like to run the ball you might want to wait for the patch or just play on another system.

NCAA Football 2007 for the PSP is a faithful port of the PS2 version, right down to the metal cleats and fan meter. [Sep 2006, p.83]

Even the PSP version is online, but there is some noticeable lag with the game, but it really doesn't kill the gameplay at all.

The unfortunate choice to leave out mini-games, the great Campus Legend mode and some extra goodies is upsetting but what we have here is a football game that doesn't disappoint when it comes to the college football scene.

Mixed with all of the elements that made the PS2 games successes, NCAA Football 2007 for the PSP is a fun hybrid to waste time with while on-the-go, despite some control issues and a serious error in the running game.

Online play via infrastructure also feels a little broken, with some frustrating lags and glitches also coming into play during a game.