Publisher:

MumboJumbo

Release Date:

Nov 17, 2006

Also On:

PC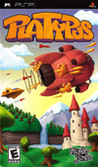 Summary:

Platypus, a side-scrolling shooter game, puts you right in the middle of the action with a unique visual presentation and addictive gameplay. Your mission is to guide your ship, "PLATYPUS," through 30 challenging and action-packed levels. With unique, hand-molded 3D clay graphics,

Platypus, a side-scrolling shooter game, puts you right in the middle of the action with a unique visual presentation and addictive gameplay. Your mission is to guide your ship, "PLATYPUS," through 30 challenging and action-packed levels. With unique, hand-molded 3D clay graphics, electrifying power-ups and invading enemy forces, Platypus can be played by yourself or with a friend, adding a whole new dimension to the already exhilarating action. Whether played by rookies or hardcore gamers, Platypus presents an easily accessible yet hard to master game that shoots its way past the competition. [MumboJumbo]

…

Collapse
Developer:

Squashy Software

Genre(s):

Action

# of players:

2 Online

Cheats:

On GameFAQs

Rating:

E
The game is also fashioned entirely from clay and contains strange synthesizer music--wait I'm getting a news flash..."techno" they say, and it is reportedly "simplistic and fun," whatever that means. [Feb 2007, p.44]

It's a good, solid game that has a tremendous visual appeal and is generally a ton of fun to play, but at the same time does absolutely nothing spectacular that hasn't been seen in any shooter before it and falls short of delivering a long-lasting playing experience that would justify it being a must have addition to your PSP collection.

What it lacks in options and complexity, it makes up for with good old-fashioned mass destruction action. It's simple enough for anyone to pick up and get into, but it still manages to offer a lot to hardened genre fanatics.

While far from a terrible game, Platypus lacks enough variety and challenge to make it worth it even to the most casual gamer or fan of the side-scrolling genre. It's a game best enjoyed in the bargain bin.

As basic as you can get for a shooter. What makes Platypus stand out is the graphics that have been wrapped in an layer of clay, this brings out a unique charm and the quality that pushed me up from a [50 to a 60].

As far as side-scrolling shooters go, Platypus for the PSP doesn't stray from the traditional 2D shooters of yesteryear but it still manages to be forgettable experience hardly worth buying.

What could have been the modern equivalent to classic bizarre Japanese shooters like Parodius is instead a one-trick pony.
i remember this on the computer a while back. but when they just recently added it to the pss i knew this was a must buy. the graphics are

i remember this on the computer a while back. but when they just recently added it to the pss i knew this was a must buy. the graphics are average but in my oppinion what sets this game apart is the multiplayer option which lets lets you team up with another person to go through the level. this game is also one of those games where you can play for a minutes then pick it back up later and never gets old

…

Expand
| | |
| --- | --- |
| | #97 Most Discussed PSP Game of 2006 |