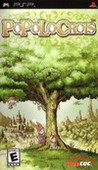 Summary:

This classic fantasy story features brand-new sequences from the animated TV series, new playable adventures, plus exciting battles with rich, vibrant colors and cell-shaded 2D graphics. You'll be hooked on the delightful characters and animated storyline that is fun for all ages. Features C

harming Cel-shaded Graphics in Rich, Vibrant Color; Save Feature for Playing On-The-Go; 30+ Hours of Game Play; and Bonus Anime Sequences from the Japanese TV Series. [Agetec]

…

Expand
Developer:

G-Artists

Genre(s):

Role-Playing

# of players:

1 Player

Cheats:

On GameFAQs

Rating:

E
This RPG is brilliant, taking me back to the good old days when games like FFVII and Vagrant Story were king. [Nov p.101]

Don't be dissuaded by the kid-friendly appearance, this is a thoughtful game both emotionally and strategically. [Oct 2005, p.151]

It has a simple, effective story that matches its straightforward game mechanics, something that hardcore fans of old-school RPGs will certainly appreciate.
one of the best games on the psp ever! it has a very addictive combat system with nice characters and enemies. its basically an old school RPG

and there aren't many of those being made these days. the way people talk, and what they say are so cheesy it's like a made for TV movie on the Sci Fi channel but instead of making you want to hurl, you laugh. the cheesy-ness, although sometimes funny, is very annoying when your casting a spell, because every time, the character yells out the name of the spell in a stupid voice(oh, and the spells have cheesy names too) and then you watch for the next 15 to 30 seconds as a spell happens. the spell length and cheesiness of spell casting are the only draw backs of PoPoloCrois. i would recommend this to everyone with a PSP because of it's addictive and fun and lasts for a good 30 HOURS! im not kinding, when you beat the first major boss(no spoiler) you think the game is over, but BOOM, you have a new quest but with the same loving characters. although this game looks gay(i thought so until my friend recommended it when his parents bought it for him for his b day, ad he was like, "why did you get me this!?", but it turned out to be really fun). besides, its real cheap, approx. $8 at gamestop. everyone should get it to try at the very least and i guarantee that youll be hooked once youve spent about 15 min getting used to it. 99.9/100

…

Expand

This is a great traditional rpg for psp and is a must buy for rpg fans.

Unique combat system that combines elements of traditional RPG's with Strategy RPG's. Likeable characters and detailed graphics mak

e the game enjoyable all around. The burst loading takes a little getting used to but is implemented well and saves battery life.

…

Expand

Great all over PRG for the PSP. A good choice for youngsters all the way up.