Publisher:

Capcom

Release Date:

Oct 31, 2006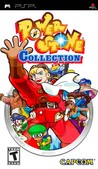 Summary:
A compilation including enhanced versions of "Power Stone" and "Power Stone 2," both originally released for the Sega Dreamcast and arcades. These fast and furious 3D brawlers put a new spin on "last man standing" as characters take each other on in frenzied match ups amidst fully interactive environments. Utilizing a simple control scheme, players can execute standard moves such as punches and kicks but the deeper power struggle comes in the form of "power stones." Fighters vie to collect these gems in order to tip the scales in their favor, as nabbing three will allow them to transform into super fighters that can perform devastating power moves. In addition, a variety of zany weapons and the ability to use environments in creative ways allow an incredible level of freedom and depth beyond the typical fighting game. Multiplayer support via the PSP system's ad hoc mode raises the stakes as friends duke it out in frenzied no holds barred battles. [Capcom]
| | |
| --- | --- |
| Rating: | T |
| Official Site: | http://www.capcom.co.jp/powerstone_p/top.html |
| Developer: | Capcom |
| Genre(s): | Miscellaneous, Compilation, Compilation |
| Number of Players: | 1-4 Players |
| ESRB Descriptors: | Violence |
| Offline Modes: | Competitive |
| Connectivity: | Game Sharing Wi-Fi |
Designer/Producer/Programmer credits provided by
GameFAQs
.
If you contributed to this game and feel you should be credited, please read our
FAQ
.
| | |
| --- | --- |
| | |
| | #34 Most Shared PSP Game of 2006 |