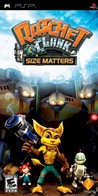 Summary:
While on a much needed vacation, Ratchet and Clank's rest and relaxation time is suddenly cut short as they soon find themselves lured into a mysterious quest. Following the trail of a kidnapped girl, Ratchet and Clank rediscover a forgotten race of genius inventors known as the Technomites. They soon uncover a plot more dangerous than they could have imagined. Featuring new and returning weapons and gadgets, including the Shocker, Agents of Doom and Shrink Ray, Ratchet & Clank: Size Matters packs all of the combat and destruction fans have come to expect from the series. Players can utilize the all-new customizable armor system themed for various gameplay to gain upgrades and advance through challenging action-packed areas. Gain access to different vehicles to compete in races and combat enemies in intense battlefield missions. With wireless multiplayer gaming, up to four players can connect for intense combat and head-to-head action. [SCEA]

| | |
| --- | --- |
| Rating: | E10+ |
| Official Site: | http://www.us.playstation.com/Content/OGS/UCUS-98633/Site/ |
| Developer: | High Impact Games |
| Genre(s): | Other Shooters |
| Number of Players: | 1-4 Players |
| ESRB Descriptors: | Animated Blood, Cartoon Violence, Fantasy Violence |
| Offline Modes: | Team Oriented |
| Connectivity: | Online, Wi-Fi |
| Online Modes: | Team Oriented |
| Number of Online Players: | 4 Players Online |
Designer/Producer/Programmer credits provided by
GameFAQs
.
If you contributed to this game and feel you should be credited, please read our
FAQ
.