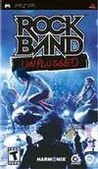 Summary:
Rock Band Unplugged creates a full band experience in the palm of your hand by combining traditional beat match gameplay with key elements from both Rock Band and Rock Band 2, such as overdrive and chords. Your hands are the "peripherals" in Rock Band Unplugged allowing you to take direct control of the lead/bass guitars, drums and vocals. In addition, players can expect a rich Rock Band experience with fully functional modes like World Tour, Band Survival and Warm Up and a robust character creator for full customization! Rock Band Unplugged features over 40 master-recordings including nine brand new, exclusive songs for the PSP system for a limited time! Plus, Rock Band Unplugged includes the first fully-featured in-game store for downloadable content on the PSP system in the North American and European markets, leveraging the PSP system's wireless capabilities. The in-game store is powered by PlayStation Network, and players can to use their existing PlayStation Network account to purchase tracks, similar to the Rock Band console experience. PSP system owners also have the option of purchasing tracks via PlayStation Store on the PC. [MTV Games]
| | |
| --- | --- |
| Rating: | T |
| Official Site: | http://www.rockband.com/ |
| Developer: | Backbone Entertainment, Harmonix Music Systems |
| Genre(s): | Rhythm Games |
| ESRB Descriptors: | Lyrics, Mild Lyrics, Mild Suggestive Themes, Suggestive Themes |
Designer/Producer/Programmer credits provided by
GameFAQs
.
If you contributed to this game and feel you should be credited, please read our
FAQ
.