Publisher:

Sega

Release Date:

Nov 13, 2007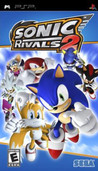 Summary:
The gloves are off and Sonic and his rivals are gearing up for an intense head-to-head competition exclusively on the PSP. This sequel to Sonic's 2D action platformer features all-new "jostling" controls for tighter competition and a brand new Battle mode that allows you and a friend to jump into six different Multiplayer challenges by sharing one disc. With three new characters, 12 new stages and upgraded signature moves for each character, the enhanced Rivals experience brings a whole new level of handheld fun to the PSP system. Battle Mode: Select from six ways to thrash your rival buddies: Knockout, Ring Battle, Race, King of the Hill, Capture the Chao, and Tag. Single Disc Game Sharing: Grab a friend and jump into the Multiplayer action with just a single disc using the Wi-Fi function. New Storyline. The Chao seem to be disappearing and all eight rivals must work fast to find out who is behind it. Three New Playable Characters: Miles "Tails" Prower and two other new characters round out the cast of eight rivals. Free Play Mode: Free from rivalry, experience the game in old-school Sonic-style. In this Single-player mode, you can enjoy the challenging map at your own pace. Expanded Card Collection: Collect 150 new cards for loads of new options to customize your playable characters. [Sega]
Designer/Producer/Programmer credits provided by
GameFAQs
.
If you contributed to this game and feel you should be credited, please read our
FAQ
.
| | |
| --- | --- |
| | |
| | #24 Most Discussed PSP Game of 2007 |
| | #45 Most Shared PSP Game of 2007 |