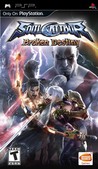 Summary:
Soulcalibur: Broken Destiny preserves all the fierce battles and gorgeous visuals the series has been known for to create the most comprehensive fighting experience ever on a handheld system with highly responsive controls and balanced gameplay. Adding depth to the combat, an all new single player mode has been specifically crafted for the PSP system that not only challenges a player's reflexes but also improves his fighting skills. Following in the footsteps of Soulcalibur IV, Critical Finish Moves return where opponents can be defeated with one spectacular attack. Furthermore, the game's character customization feature has been outfitted with even more options than ever before for infinite possibilities to create an original fighter or customize a favorite warrior. Let the trash talking commence as Soulcalibur: Broken Destiny also allows gamers to engage in local wireless battles, allowing them to challenge a friend using the PSP system's ad hoc networking. Now adrenaline pumping combat has never been so accessible. [Namco Bandai Games]
Designer/Producer/Programmer credits provided by
GameFAQs
.
If you contributed to this game and feel you should be credited, please read our
FAQ
.
| | |
| --- | --- |
| | |
| | #6 Most Discussed PSP Game of 2009 |
| | #15 Most Shared PSP Game of 2009 |