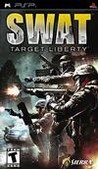 Summary:

SWAT: Target Liberty captures the heart-pumping action of real-life close quarters combat of specialized police units. With the help of Ken Thatcher, a 29-year Los Angeles S.W.A.T. veteran enlisted as the game's consultant, SWAT: Target Liberty for the PSP system captures the same

SWAT: Target Liberty captures the heart-pumping action of real-life close quarters combat of specialized police units. With the help of Ken Thatcher, a 29-year Los Angeles S.W.A.T. veteran enlisted as the game's consultant, SWAT: Target Liberty for the PSP system captures the same authenticity as previous titles. Penned by script writer Scott Rosenbaum ("The Shield"), the SWAT: Target Liberty game action is set in New York City where a special weapons and tactics team is tasked with thwarting an ever increasing number of international terrorist threats. Each officer in the unit has a specialty and using a unique skill system, the player can upgrade their individual combat expertise to increase their chances of success. The game also features an ad-hoc multiplayer system which allows gamers to play in a variety of game modes. [Sierra]

…

Collapse

Developer:

3G Studios

Genre(s):

Modern

# of players:

4 Online

Cheats:

On GameFAQs

Rating:

T
With 45 hours of missions to do and its PSP-specific design, this is one of the best games on the handheld. [Nov 2007, p.122]

The slow plodding existence of a SWAT team member isn't ffor everyone. [Nov 2007, p.78]

Target Liberty is too short, too tedious, and too absurd to take seriously.

At its best SWAT: Target Liberty is a messy stealth action game that tries to bite off more than it can chew.

Regardless of whether or not it was a good idea to make SWAT: Target Liberty for the PSP, it's quite a poor game either way.

Target Liberty is a game so clunky, dated and downright unlovable that between its miserable graphics, woeful presentation and tedious gameplay it feels more like a late-90s budget PC release than a premium PSP game with a price-tag to match, and playing it is as pointless and unrewarding an enterprise as you're likely to get for £30.

Target Liberty will only serve to frustrate even the most die hard of tactical shooter fans.
Lots of little squad command button combos. After I completed the tutorials it got a lot better. The first level is slow, but the later

Lots of little squad command button combos. After I completed the tutorials it got a lot better. The first level is slow, but the later levels are really nice and very hard.

…

Expand