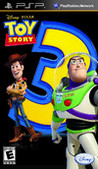 Summary:
Unleash your imagination in this new open world and play with Andy's toys your way. As Buzz, Woody, or Jessie, you choose what activities you want to do and the order you wish to do them. The more you use your imagination and create your own story, the more you get rewarded. [Disney Interactive]
Designer/Producer/Programmer credits provided by
GameFAQs
.
If you contributed to this game and feel you should be credited, please read our
FAQ
.