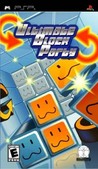 Summary:

(Also known as "Kollon" in Japan, "Koloomn" in the UK/EU) Match and twist colored blocks to clear the playfield as quick as you can – it sounds simple, but blocks change sizes, are sometimes hidden or worse. You'll need fancy footwork and a fast thumb – keep up or get kicked out. Experience

(Also known as "Kollon" in Japan, "Koloomn" in the UK/EU) Match and twist colored blocks to clear the playfield as quick as you can – it sounds simple, but blocks change sizes, are sometimes hidden or worse. You'll need fancy footwork and a fast thumb – keep up or get kicked out. Experience the first Tetris-like puzzle game for the PSP and join the party. Five Exciting Modes of Play: Arcade, Campaign, Versus CPU, Single Player, and Wi-Fi support for riveting, head-to-head action. 8 Japanese Anime-style characters. Each character features advanced A.I. for even more challenge.

…

Expand

Developer:

Magicpot

Genre(s):

Puzzle

# of players:

1-2

Cheats:

On GameFAQs

Rating:

E
With the deep and strategic gameplay, a great tutorial and a variety of modes including a two-player ad hoc wireless mode, there's no reason not to purchase UBP.

The tutorials do their best to bring you up to speed on all the gameplay concepts, but you'll need to invest a fair amount of time to get the hang of it all. Played competitively there are few games as intense as this, making the lack of unique game modes more than bearable.

The new rotation mechanic takes some getting used to, but Koloomn proves complex, satisfying and horribly addictive. Good stuff. [Apr 2006, p.113]

It's nothing fancy, but for puzzle freaks, this is a nice edition to the PSP library. [Jun 2006, p.118]

Six months on, we're still playing "Lumines." This is only a mildly amusing diversion. [May 2006, p.74]

If you're looking for an extremely cutthroat head-to-head mode then you should certainly take a look.

Some good ideas on offer here, but with an incomplete multiplayer offering the games potential is severely hindered. Recommended only for die-hard puzzle enthusiasts.
This game is fun as hell. If you like Lumines, etc., this is a friendly alternative for shorter bursts. (Darn that Lumines for lasting like 2

This game is fun as hell. If you like Lumines, etc., this is a friendly alternative for shorter bursts. (Darn that Lumines for lasting like 2 hours...)

…

Collapse