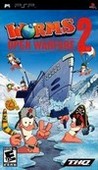 Summary:

Players can challenge others from all over the world via multiplayer battles using a wireless connection as they command their worms through clashes that take place in famous battles of the past, as well as fictional fights of the future. Battles include the Spanish Armada conquest in "Pirat

es!," the frontlines of real war in "World War II" and laser shooting spaceships in "Space War!," among others. In addition to the classic Deathmatch mode, the game also includes robust new single and multiplayer modes such as Rope Race, Fort, Puzzle and Campaign modes that challenge players to use new strategies and teamwork to defeat their enemies. The new Firing Range allows gamers to test their weapons skills, including 11 new weapons like the Bunker Buster and Buffalo of Lies as well as classics such as the Super Sheep, Concrete Donkey and the Holy Hand Grenade. Gamers that take the battle online will be able to demonstrate their Worms combat prowess with daily updated stats and leaderboards on the official Worms website. Players will also enjoy the new, in-depth customization options including custom landscape and team flag editors in addition to modified hats, tombstones and victory dances for their worm teams. [THQ]

…

Expand
Developer:

Team 17, Two Tribes

Genre(s):

Turn-Based Strategy

# of players:

4 Online

Cheats:

On GameFAQs

Rating:

E10+
With online options, fun gameplay, hilarious presentation and a can-of-worms full of extras, Open Warfare 2 shouldn't be missed by anyone.

Team 17 has crafted yet another entry into this fine franchise, and the overall results are nothing short of solid. Worms is a highly simplistic, yet very addictive and engaging strategy game that is sure to have you coming back to it very, frequently.

Win or lose, joyous or torturous, this game is a blast and a non-stop addiction.

In many ways, it's the best Worms yet. There's a substantial amount of weapons, a gargantuan level of options and plenty of multiplayer fun to be had. However, it is just Worms, a game that's appeared on every format known to man for the last 13 years, and follows extremely quickly after last year's dubious handheld debut. Ultimately the question remains, how much Worms do you need?
A complete portable worms masterpeice.

For critics to deduct points from Worms for not being innovative is ridiculous. The gameplay is classic, deducting points for it is like dedu

cting points from a Tetris game for its gameplay or Pacman for its gameplay. This is the most balanced, best presented, fun and strategic Worms yet. Worms is a great game for a handheld, and this game capitalizes on that. Worms fans should be pleased and this is a great package for newbies too. Most highly recommended.

…

Expand

This game will keep you playing for many months, a must buy for any psp owner.

Would have been ok but nobody plays it online an multiplayer sucks for that reason not worth your money.