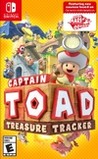 Summary:

The intrepid Captain Toad sets off on his own adventure for the very first time through a wide variety of tricky, enemy-infested, maze-like stages to find hidden gems and nab elusive gold stars.
Developer:

Nintendo EAD Tokyo

Genre(s):

Action

,

Platformer

,

3D

# of players:

2

Cheats:

On GameFAQs

Rating:

E
Please enter your birth date to watch this video:
You are not allowed to view this material at this time.
Captain Toad Busts Onto The Switch
It's fitting that, four years after releasing on the Wii U, Captain Toad: Treasure Tracker is enjoying a second life on the Switch: The majority of the game's clever puzzles revolve around shifting our sense of perspective, and isn't it a port's job to give players a chance to see an old title in a new light?

Captain Toad: Treasure Tracker is one of the best options in Switch's catalogue. The combination of a huge amount of funny puzzles along with multiple additions to this version make it feel like an interesting purchase.

Another great Wii U game that is made better by the Nintendo Switch's portability. It's a fun experience that doesn't overstay its welcome, but definitely does feel repetitive in certain areas.

Captain Toad is a happy game and those are becoming fewer and farther between in the modern landscape.

Captain Toad: Treasure Tracker is a brilliant puzzle-platformer game, which will constantly impress you with creative stages and a top-notch presentation. Despite providing different experiences if played on handheld or console modes, it delivers a charming adventure, with tons of content to keep you hooked for hours.

There is a charmingly competent puzzler here, yet it's hard to recommend without an abundance of caveats. If you've yet to play the Captain Toad and solving cute and charming puzzles, it could be worth a shot if it drops in price, even though the asking price is lower than most to begin with. If possible, and if you own a Wii U, you would be better off dusting that system down and playing it on there.
Cute little game, perfectly made for handheld. Controls are good, no slowdowns. Technically solid. Imho it has much charm and very high

Cute little game, perfectly made for handheld. Controls are good, no slowdowns. Technically solid. Imho it has much charm and very high quality. What i dont get is why people think this would be different game, just because its on Switch now...and downrate it on that. So i ask: did you cry when an old movie was redone/changed just for a new medium? I guess not...
Since im playing 1p and on handheld, this is my rating for excatly that.

…

Expand

This is a perfect little game.

Captain Toad Treasure Tracker is a unique puzzle-box platformer that does everything right for the kind ofThis is a perfect little game.

Captain Toad Treasure Tracker is a unique puzzle-box platformer that does everything right for the kind of game it is. Because it's tightly designed around it's core puzzle-platforming mechanics, it's clear that everything is placed and positioned with utmost intention by the developers. There are no accidents, only fully realized ideas. On top of that the visuals are appealing, the music is catchy, and the story is adorable. I can't really think of anything that would knock off a point, this is the kind of game you can do perfectly with the right amount of polish and expertise behind the wheel.

That being said, if you're looking for anything but a simple slow-paced puzzle platformer, you won't find it. The game doesn't aspire to do anything outside of its core appeal, so I recognize it's not going to be for everyone. If I had to compare it to another game, it actually makes me think of Donkey Kong '94 for the Game Boy. It was a pseudo remake of the Donkey Kong Arcade game that then led into some 90 odd puzzle rooms where Mario had to grab a key and get it over to a locked door to progress. It holds up surprisingly well and the mentality of 'what can we do with these basic mechanics' carries over to Captain Toad. Because it is sticking to such a simple premise, you can really see how much work goes on behind the scenes to make simplicity satisfying. Introduction of new mechanics occurs naturally and intuitively. Difficulty is well managed and reflects the stakes of each level. No part of the buffalo is wasted with this game, it's just perfect.

I'm really happy this game got made and I'm really happy it made its way now to 3 consoles. It's not worth buying it again if you already own it (that should be obvious, but apparently not) but I'm just glad that it's being offered the chance to reach a wider player base. It's a humble game, but it works hard to deliver on it's humble offering. Here's hoping for a sequel.

…

Expand

I'd originally played this on Wii U. The levels are fun to play through, and there is a great variety of stages to work through, so it was an

I'd originally played this on Wii U. The levels are fun to play through, and there is a great variety of stages to work through, so it was an easy enough decision to get this again. No one is forcing a person to re-buy a port so I don't really see why some people get so upset when they do so.

Perhaps a 3rd book would have been a welcome addition to add into this port but there is enough variety and number of stages that lack of new content shouldn't be much of a deal breaker, perhaps we can hold out hope that they will offer DLC in form of a 3rd book or make a sequel in future, for now we can enjoy the Mario Odyssey themed level additions. its about 40% less than the cost of most other titles on Switch. This game was never offered as a full priced title even back when it was on Wii U and for the cost of the game I'd say you get a decent amount of content included for what you are spending on the game.

I'd recommend playing this game either with a pro-controller or handheld, since controlling the camera with the second joy-con can be awkward given its placement, and the amount of camera adjusting you'll do in this game. Using the gyroscope sensor to manipulate the puzzle aspects of each level was an easy enough work around since we no longer have a touch pad in docked mode.

…

Expand

Captain Toad: Treasure Tracker is a really charming, cute, and unique game. Seeing every new level is a delight. The only problem is the

Captain Toad: Treasure Tracker is a really charming, cute, and unique game. Seeing every new level is a delight. The only problem is the game gets super repetitive fast. Best played in small doses.

…

Expand

Captain Toad: Treasure Tracker was originally designed for Wii U, and it shows in this port.

For those unfamiliar, Captain Toad: TreasureCaptain Toad: Treasure Tracker was originally designed for Wii U, and it shows in this port.

For those unfamiliar, Captain Toad: Treasure Tracker is a puzzle game where you have to guide the title character or Toadette through a cubic level to the Power Star. The thing is, they can't jump, so you'll need to find other ways to get there, such as climbing ladders or standing on rising platforms. A big challenge comes in collecting the three Super Gems in each level. Sometimes they are hidden behind head-scratching puzzles.

The puzzle gameplay is as great as it was on Wii U...except for the controls. Whereas the Wii U version has you touching the GamePad screen to move platforms, here you either have to touch the console screen in handheld mode or, on TV, move a cursor (with the controller) to the platform and press a button. These controls felt awkward to me, and although I got used to them somewhat as I played, it's not as good as the Wii U version.

Regarding differences between this and the Wii U version, there's not much. Basically, the Super Mario 3D World levels are replaced by equally entertaining Super Mario Odyssey levels.

Captain Toad: Treasure Tracker is a fun game that has gained a few issues in the conversion from Wii U to Switch. You could go far worse than this port, but I recommend the Wii U version over it due to better controls.

…

Expand

For the price Captain Toad : Treasure Tracker is worth it, but it lacks so much in terms of content.
It has exactly the same amount of levelsFor the price Captain Toad : Treasure Tracker is worth it, but it lacks so much in terms of content.
It has exactly the same amount of levels of the wii u version and the only new thing is the Super Mario Odyssey's levels but it took away the Super Mario 3D World's level, which in my opinion, is the biggest flaw of this port. Another flaw that I can say about this game is that you can complete it really fast.
Now that I showed what I think that are the biggest flaws of this game, I'm going to write it's major strengths. Captain Toad : Treasure Tracker is a nicely done puzzle experience with 70 levels with various and creative ways to finish them which makes every single level unique and fun to play. The artstyle also makes the game cute and gorgeous.
To conclude, Captain Toad : Treasure Tracker, even thought short and even if it doesn't bring much new content, is a cute experience to enjoy with creative ways to play and to solve all the 70 puzzle levels it offers.

…

Expand

HORRIBLE, este juego es para niñitas estupidas NO LO COMPREN es perdedera de dinero