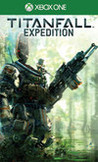 Summary:

Titanfall: Expedition introduces three new maps to the Frontier – Runoff, Swampland and War Games.
Developer:

Respawn Entertainment

Genre(s):

Action

,

Shooter

,

First-Person

,

Sci-Fi

,

Arcade

Cheats:

On GameFAQs

Rating:

M
Please enter your birth date to watch this video:
You are not allowed to view this material at this time.
Titanfall - Ogre Titan Reveal Trailer
With three very different maps Respawn has shown that they take pride in their level design.

With 3 maps at 10 euros Titanfall: Expedition is a standard DLC. The new arenas grant a great design for both titans and pilots. Respawn is doing a good job with this interesting multiplayer only first-person shooter.

Expedition will satisfy those who've spent the past two months regenning, arc mining and "standing by", and is further proof (if any were needed) that Respawn is rather good at this whole first-person shooter thing.

X-ONE Magazine UK

Jun 21, 2014

Some may complain about only receiving three maps in the Expedition pack, but it's hard to argue against the quality of the content. [Issue#112, p.94]

Titanfall: Expedition offers three new maps with great design, delving into titan and parkour mechanics. Swamplands is the better scenario for its architecture and visuals. But this first DLC comes with a lack of content. Without new weapons or different modes.

A map pack, plain and simple. No extra weapons, no game modes, no goodies of any kind. It has some interesting contributions with two great maps out of three, but its lack of content is exposed.

Even with a cheaper price point, it's hard to recommend this pack.
Great start for the DLC.. 2 of these new maps are HUGE! People wanted some bigger maps.. and they got them. Not sure why someone would pay

Great start for the DLC.. 2 of these new maps are HUGE! People wanted some bigger maps.. and they got them. Not sure why someone would pay $10 for one DLC.. Just buy the Season Pass for $25 and you will get all 3 DLC packs. Respawn has been good with doing updates.. adding features.. fixing bugs.. love it.

…

Expand

I have never bought a DLC addition for any game on any system before this game. I actually enjoyed playing the retail version of the game and

I have never bought a DLC addition for any game on any system before this game. I actually enjoyed playing the retail version of the game and thought respawn produced a well rounded game. The three levels of the DLC are extremely varied and are a true delight to play. I have been playing attrition on expedition DLC levels since release and I have zero complaints about buying it.

…

Expand

Ignoring the haters, this is a decent 1st dlc for Titanfall & only 2 months after the original release. Respawn are doing great with updates

Ignoring the haters, this is a decent 1st dlc for Titanfall & only 2 months after the original release. Respawn are doing great with updates and fixes too (although I reckon the match making could do with further fixes). The new maps are brilliant and varied . Not sure why you would buy the map dlc individually though, seems an expensive way to do it, may as well buy the season pass. Looking forward to customizable features that should be shown in the next update

…

Expand

Just like typical DLC maps these are nothing special. Yet in comparison to other DLC's I have played for first person shooter they are good

Just like typical DLC maps these are nothing special. Yet in comparison to other DLC's I have played for first person shooter they are good enough. If you're craving more Titanfall I would suggest grabbing this. If you're just a mixed fan this is probably not for you.

…

Expand

Titanfall seemed like it would be a wonderful story.

Unfortunately it is online only gameplay, which doesn't make any sense, I feel likeTitanfall seemed like it would be a wonderful story.

Unfortunately it is online only gameplay, which doesn't make any sense, I feel like you limit the amount of people whom would buy just because they wouldn't be able to play online, what about the guys that are deployed overseas without an active internet connection, this game should have had some form of single player offline so that you could learn the mechanics of the game without being bothered with others who had already mastered them online. The graphics look fairly decent, the concept and execution of the game are good, but the total online is not cool. More maps need to be pushed more frequently as well, and some more customization.

…

Expand

This DLC should have been $5, tops. The three maps themselves are fun and varied, but given that that is all that comes in this first DLC

This DLC should have been $5, tops. The three maps themselves are fun and varied, but given that that is all that comes in this first DLC offering, there just isn't enough here to warrant the $10 price tag. Seeing as these new maps are completely separate from the main matchmaking anyways (with the choices of either Expedition Variety or Expedition Attrition modes), I would suggest waiting for the eventual price drop for bundle deals.

…

Expand

I bought an XBO because I was so excited for Titanfall and it only disappointed me. The lack of content was unbelievable. Now they want us to

I bought an XBO because I was so excited for Titanfall and it only disappointed me. The lack of content was unbelievable. Now they want us to pay for more maps? This should be free. Titanfall is officially the biggest rip off in gaming.

…

Expand