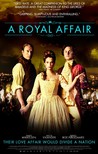 Summary:

A Royal Affair is the true story of an ordinary man who wins the queen's heart and starts a revolution. Centering on the intriguing love triangle between the ever more insane Danish King Christian VII (Mikkel Boe Følsgaard), the royal physician who is a man of enlightenment and idealism

A Royal Affair is the true story of an ordinary man who wins the queen's heart and starts a revolution. Centering on the intriguing love triangle between the ever more insane Danish King Christian VII (Mikkel Boe Følsgaard), the royal physician who is a man of enlightenment and idealism Struensee and the young but strong Queen Caroline Mathilda, A Royal Affair is the gripping tale of brave idealists who risk everything in their pursuit of freedom for their people… Above all it is the story of a passionate and forbidden romance that changed an entire nation. (Magnolia Pictures)

…

Expand
Director:

Nikolaj Arcel

Genre(s):

Drama

,

History

,

Romance

Rating:

R

Runtime:

137 min
Please enter your birth date to continue:
You are not allowed to view this material at this time.
With its sumptuous settings, urgent romance and intellectual substance, A Royal Affair is a mind-opener crossed with a bodice-ripper.

Takes a fascinating chapter in Danish history, little-known to general audiences, and presents it engagingly.

While it's lavish and lush in all the expected costume-drama ways, A Royal Affair never bogs down in period detail. What drives the film, along with great acting, is the appetite of director Nikolaj Arcel and his boisterous co-writer Rasmus Heisterberg ("I want a fun queen!" wails Christian) for the queasy workings of political gamesmanship both above and below board.

But even appreciated simply as a little-known chapter of European history, it proves consistently engrossing, edifying and affecting.

A Royal Affair...is a lovely history lesson, but a film without the spark of invention that makes this modern parable feel modern.

It is certainly competent, lovely to look at, but leaves little lasting impression.

Intrigue and eroticism abound, all of it watchable, none of it particularly exciting. And the misty widescreen photography lends the proceedings a funereal air of respectability that's like catnip to Oscar voters.
A Royal Affair is quite simply the best historical costume drama that I have seen for years. This is what one hopes for every time from this

A Royal Affair is quite simply the best historical costume drama that I have seen for years. This is what one hopes for every time from this type of film and all to often what one gets is the debacle of something like 'The Affair of the necklace'. An unknown (to myself) period of history comes to life in the three areas that matter in a film like this. The acing of the three leads is fantastic with special praise going to Mikkel Boe Folsgaard as the king on the edge of sanity. His performance in a supporting role is the best of this year. The design and costumes are truly beautiful, and last but by no means least the writing where most films of this ilk fall down badly. Not here, however. The story is propelled onwards and upwards by intelligent dialogue delivered with expert precision by the entire cast. At the moment it seems to me that the Danes have cornered the market in quality entertainment, not only in film, but also on tv where their output is also of an extremely high standard of late (Borgen; The Killing; The Bridge to name a few). See A Royal Affair at all costs as it is a gem of a film that has almost slipped by un noticed due to its minuscule release. If you like well acted and beautifully written period dramas about royalty you won't be disappointed.

…

Expand

Near perfection. A historical romance/drama (maybe even a twisted coming of age tale) that never seems laughable or dull. Each of the main

Near perfection. A historical romance/drama (maybe even a twisted coming of age tale) that never seems laughable or dull. Each of the main characters are complex and given their fair portrayals. Every motivation seems remarkably human and understandable, even if cringe-worthy. It did feel a little long, but that was its only flaw. Beautifully shot, acted, edited, scored, everything.

…

Expand

The age of enlightenment is a milestone in history that has resulted in the world we live in now. Before, religion and state had overbearing

The age of enlightenment is a milestone in history that has resulted in the world we live in now. Before, religion and state had overbearing control over what was seen by their citizens, and any inkling of free thought could result in a quick trip to the guillotine. Then a new era was ushered in, where books became more valuable than almost anything else. Information could be freely sought and learning to question authorities was encouraged. Yet, in some countries, this was (and still is) a discouraged notion. It took many nations years before the age of enlightenment could become mainstay, albeit to much hesitation. A Royal Affair is a portrait of this time, showing Denmark

…

Expand

A European film which does not lack the luster of the Hollywood films, but however still intelligent and substantial. This film takes a

A European film which does not lack the luster of the Hollywood films, but however still intelligent and substantial. This film takes a fascinating chapter in Danish history, little-known to general public, and presents it engagingly. The direction, acting and production are all top notch and worthy of the Oscar nod from the American Academy.

…

Expand

A Royal Affair covers plenty of stately ground, all in good time.

Watch this movie here for freeA Royal Affair covers plenty of stately ground, all in good time.

Watch this movie here for free http://www.watchfree.to/watch-1ed523-A-Royal-Affair-movie-online-free-putlocker.html

…

Expand

A historical lesson from a period drama about the age of the Enlightenment in Denmark, a national revolution conducted by a German foreigner

A historical lesson from a period drama about the age of the Enlightenment in Denmark, a national revolution conducted by a German foreigner Dr. Johann Struensee (Mikkelsen) and his romantic involvement with Caroline Mathilde (Vikander), the Queen of King Christian VII (Boe Følsgaard), another exemplar of how arranged marriage really sucks!

A ROYAL AFFAIR is an Oscar BEST FOREIGN PICTURE nominee, a sumptuous production (art direction, costume etc.) for the eyes and an irresistible bait for period fanatics (count me in). Intriguingly, it is not a conventional love triangle since there is no love at all between Caroline and Christian from the very first sight, once Caroline bears their son and fulfills her obligation as a Queen, their connubiality is only a token guise while Caroline and Johann are the star-crossed lovers, but their romantic rapport surprisingly has been outshone by Christian's devout friendship towards Johann, it is a territory many historical pictures dare not to explore, Christian is a one-of-a-kind character, a mad king or a spoiled child, his mentality is so capricious and unpredictable (maybe thanks to the excessive masturbation), thus whenever he is on screen, the attention all turns to him, even an actor as excellent as Mikkelsen cannot turn back the tide, and the newcomer Boe Følsgaard owns the character out-and-out. He is a lonely king in desperate need of a true friend and when he finds Johann, their mutual interest in theatre connects resoundingly and from then on, Christian confides his unconditional obedience to Johann, allows him to govern the country and execute the avant-garde revolution against all odds, even Caroline, when he finally finds out their adultery, is expendable in trade of maintaining the status quo with Johann (it is hard not to divine maybe there is something more than friendship lies beneath the surface).

But their immature reformation is intrinsically ephemeral, Johann is not a qualified politician as his overhasty actions boomerang, he loses his allies easily, what's more fatal is the scandal puts him against the whole nation (having an affair and even a daughter with the Queen), and gives his rivals a too-grand opportunity to annihilate him, his only chance is Christian, but at this moment, who is just a puppet king completely beaten up. Mikkelsen is exceedingly captivating in the final scenes when he realizes his doom is inevitable, he gives incredible nuances as a man's ultimate fear when death awaits mercilessly. Internationally acclaimed Dyrholm and Dencik (if one can recall their idiosyncratic collaboration in A SOAP 2006, 8/10) are cast as the King's stepmother and her conservative aide, not too much screen time though but Dyrholm eludes a more accessible intensity instead of the corny evil stepmother default.

Anyhow, the film is a delight output from Denmark, a tinge protracted one may complain and the powerlessness to witness goodwill goes to perish is also disheartening, but as a fine piece of art, defects cannot obscure the splendor and the virtues.

…

Expand

oh look at that ..a perfect 10 looking out at all the poor.....reminds me of television as a whole....we strive to be attractive and fit

oh look at that ..a perfect 10 looking out at all the poor.....reminds me of television as a whole....we strive to be attractive and fit although you can't just make yourself attractive so its pretty messed up..oh look at that...a girl with multiple choices for a mate....how fun

…

Expand