Release Date:

Jun 15, 2001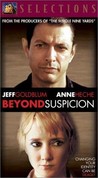 Starring:

Anne Heche

,

Jeff Goldblum

Summary:

An insurance salesman (Goldblum) adopts the identity of an ex-con, Auggie Rose, who dies in his arms during a liquor-store robbery.
Director:

Matthew Tabak

Genre(s):

Drama

,

Mystery

,

Thriller

Rating:

R

Runtime:

109 min
Please enter your birth date to continue:
You are not allowed to view this material at this time.
Consistently imaginative and persuasive in its plotting and writing. Tabak makes substantial demands on his wonderful cast but rewards them with roles of exceptional depth and dimension.

One of those go-out-for-coffee-afterward-and-talk-about-it movies, and those are always welcome.

Screenwriter Matthew Tabak's directing debut is carefully plotted, well acted and surprisingly free of cheap thrills.

Begins exceptionally well. Indeed, for at least its first half it's an unusually thoughtful, admirably underplayed piece of work of disorienting, rather harsh realism that builds its mysteries in pleasurably oblique and unpredictable ways.

Goldblum, who has made psychological confusion his actor's stock-in-trade, gives Nolan's behavior just enough credibility to keep his quest alive for us, and Heche gives a delightfully unaffected performance as Lucy.

A minor-key diversion, might play relatively well on television, where you're listening with one ear while keeping the other cocked to the phone.

None of it rings true, and it distracts from the film's real heart, which, on its own, would have made for a strikingly original first film.
Nice, quirky, little movie with a happy ending.