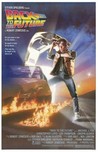 Starring:

Christopher Lloyd

,

Michael J. Fox

Summary:

Marty McFly goes back in time, in a DeLorean invented by his friend, Dr. Emmett Brown, and must make sure his high-school-age parents get together, so he doesn't cease to exist.
Director:

Robert Zemeckis

Genre(s):

Adventure

,

Sci-Fi

,

Comedy

Rating:

PG

Runtime:

116 min
Please enter your birth date to continue:
You are not allowed to view this material at this time.
Among the plethora of innocent charms on offer, there's the near perfect script by Zemekis and Bob Gale which not only negotiates its time travel paradoxes with deft, exuberant wit but invests the light-hearted plot machinations with a seasoning note of honest drama.

The best mainstream film since "E.T.," is an uplifting reminder that Hollywood can still produce truly great entertainment...The plot is so exquisitely developed that divulging anything beyond the basic outline might diminish the joyous surprises that await an audience thirsting for originality in a reactionary medium. [03 July 1985, p.57]

This brilliant contraption of a film could become the hit of the summer. It's a cinematic Rube Goldberg machine whose parts connect in audacious, witty ways. [04 July 1985, p.E.1]

Performances by the earnest Fox, the lunatic Lloyd, the deceptively passionate Lea Thompson, and, particularly, the bumbling-to-confident Glover, who runs away with the picture, merrily keep the ship sailing.

Mr. Zemeckis is able both to keep the story moving and to keep it from going too far. He handles Back to the Future with the kind of inventiveness that indicates he will be spinning funny, whimsical tall tales for a long time to come.

The movie, in fact, resembles Capra's "It's a Wonderful Life" more than other, conventional time-travel movies.

It's big, cartoonish and empty, with an interesting premise that is underdeveloped and overproduced. [3 July 1985, p.Calendar 6]
A teenager, Marty, finds himself in an accidental time travel into the past where he meets his parents who are young again. He has to create a

A teenager, Marty, finds himself in an accidental time travel into the past where he meets his parents who are young again. He has to create a romance between them so he could be born in the future. Dr. Brown, who invented the time machine in the future, is also his ally in the past, and together they must find a way to send him back to the future.

The story takes place in the same town. The world is a different place in the 1950s from the 80s. The dressing, speech, tastes in music, all of it. Marty, as he says himself, has a life in the future he wants to return to. The plot was intricate and the dialogue sharp and witty. The eccentric Doctor can't go a second without putting a smile on your face.

Marty's arrival in the past confuses a family living on a farm who take him for an alien. He flees from there and marches into the town still in his clothes from the future. At several instances, it is suggested that some of the popular culture was defined by Marty, such as skateboards and rock n roll.

Marty's father, George, is bullied by the same man, Biff, who is also bullying him in the future. Marty starts working on helping his father stand up for himself. He regularly comes into conflict with Biff.

George is afraid of any kind of social contact and Marty has his work cut out for him to convince him to ask his mother out so they could kiss and start a relationship. Much of the humour lies in Marty's struggles to spark fire between his parents which was messed up by his intervention.

His mother, who should have fallen in love with his father, instead becomes infatuated with him. His horror at this development is funny because you know this is a comedy film and everything will work out in the end.

'Back to the Future' is possibly one of the most entertaining movies about time travel, probably because it didn't delve into hard science and combined elements of both science fiction and comedy.

…

Expand

I watched this BttF series for the first time ever yesterday. The strange part is one of the "futures" the go to is Oct. 21 2015 which is

I watched this BttF series for the first time ever yesterday. The strange part is one of the "futures" the go to is Oct. 21 2015 which is TODAY! So how is these movies even about the future if it's not even the future? I give the movies a 10 anyway for the lols and that Marty kid is a good actor. I hope he does more movies in the future.

…

Expand

It has a good bit of science fiction mixed with a comedy that made this movie one of my favorites. It does have some cheesy moments, but of

It has a good bit of science fiction mixed with a comedy that made this movie one of my favorites. It does have some cheesy moments, but of coarse, this was an older movie. It has a good plot, with fairly good acting. There are some things that you will miss the first few times you see this movie.

…

Expand

Back to the Future is a classic. It is a very delightful film from start to finish that I truly didn't want to end. Great writing, great

Back to the Future is a classic. It is a very delightful film from start to finish that I truly didn't want to end. Great writing, great casting, great performances, cool costume and production design, and catchy music all help to make this film as awesome as it is. Its got some great laughs and a whole lot of fun throughout. A must see for everyone.

…

Expand

Once past a shaky opening overloaded with frenetic exposition, this time-travel odyssey accelerates with wit, ideas and infectious, wide-eyed

Once past a shaky opening overloaded with frenetic exposition, this time-travel odyssey accelerates with wit, ideas and infectious, wide-eyed wonder. Following nationwide, jumbo opening July 3, grosses are sure to brighten the Summer of Universal Studios and such key filmmakers as director Robert Zemeckis and coexec producer Steven Spielberg.

The central winning elements in the scenario by Bob Oale and Zcmeckis are twofold: hurtling the audience back to a very accessible year, 1955, which allows for lots of comparative, pop culture humor, and delivering a 1985 teenager (Michael J. Fox) at the doorstep of his future parents when they were 17- year-old kids. That encounter is a delicious premise, especially when the young hero's mother-to-be develops the hots for her future son and his future father is a bumbling wimp.

Film is also sharply anchored by zestful byplay between Fox' Arthurian knight figure and Christopher Lloyd's Merlin-like, crazed scientist. The latter has mounted a nuclear-powered time machine in a spaced-out Delorean, which spirits the bedazed Fox 30 years back in time to the same little town in which he grew up.

The film's opening 20 minutes or so, in present time, are intended to set up almost all one needs to know about the characters and the madcap vision of the scientist.

Indeed, the first image on the screen, of countless timepieces ticktocking away, is an effective symbolic touch. But the filmmakers scramble too furiously here and the film doesn't find its control and its feet, and what a relief it is, until the hero is dropped into the same town in 1955 to the becalming background melody of the Four Aces singing "Mr. Sandman." Then the fun begins.

Fox' wonderful goal, it eventually develops, is nothing less than making a man out of his father, who as a teenager is taunted by high school bullies and who is a peeping torn (of his future wife) to boot.

In the film's opening sequences, the father (wonderfully played by Crispin Glover) is an unctuous nit wit, and the mother (Lea Thompson) a plump, boozy, turtle-necked frau. It is the rearranging of time and events by our stalwart heroes, the wondrous youth and his magician scientist, that sets up the surprise ending when the young lad goes "back to the future" to happily discover his family, including a brother and sister, living a life that would qualify as a trendy Southern California magazine cover.

If the filmmakers' pre-'60s Be- Bop-a-Lula look occasionally suggests the '40s more than the '50s, the screen is constantly full of delightful comparisons: the old village-square movie house in '55 with a marquee showing Ronald Reagan in "Cattle Queen Of Montana" has become a porno house in '85. The Studebaker lot is now peddling Toyotas.

The quaint shops on the square in '55 are now squeezed into the metallic greyness of an outlying shopping mall. The malt shop has become an aerobics gym.

None of these points are underscored but merely floating in the background as signposts of change. The most rousing and audience-grabbing scene of culture shock comes when Fox mounts the stage of a '55 high school band, says he's going to play an oldie, and digs into Chuck Berry's "Johnny B. Goode " at the dawn of rock 'n roll.

You can see the end of doo wop, syrupy ballads and, for that matter, the fade-out of strapless prom dresses and baggy-cuffed slacks. But the mellow image of the fab '50s is the movie's nice, lingering image.

Performances by the erstwhile Fox, the lunatic Lloyd, the deceptively passionate Lea Thompson, and, particularly, the bumbling to confident Glover, who runs away with the movie, merrily keep the ship sailing. Thomas F. Wilson as the bully (what a change he comes to) and Claudia Wells as a gorgeous contemporary girlfriend of Fox contribute good support.

Film's time travel theme is sufficiently imaginative to remind filmgoers of James Stewart's fantasy travels in Frank Capra's "It's A Wonderful Life."

…

Expand

Back to the Future is funny and inventive, providing a lot of humour and interesting, well-acted characters to serve its truly unique plot

Back to the Future is funny and inventive, providing a lot of humour and interesting, well-acted characters to serve its truly unique plot which would serve as a benchmark for other future science fiction films.

…

Expand