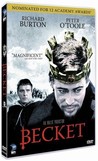 Starring:

John Gielgud

,

Peter O'Toole

,

Richard Burton

Summary:

Nominated for twelve Academy Awards, this 1964 film is an historical costume drama of the grandest order. Becket is the true story of the friendship between King Henry II (O'Toole) and Thomas à Becket (Burton), a royal courtier and confidant whom Henry appoints as Archbishop of Canterbury.

Nominated for twelve Academy Awards, this 1964 film is an historical costume drama of the grandest order. Becket is the true story of the friendship between King Henry II (O'Toole) and Thomas à Becket (Burton), a royal courtier and confidant whom Henry appoints as Archbishop of Canterbury. This stunning new 35mm color & Scope print was restored by the Academy of Motion Pictures Arts & Sciences, with funding from Martin Scorsese's Film Foundation. (Slowhand Cinema Releasing)

…

Expand
Director:

Peter Glenville

Genre(s):

Biography

,

Drama

,

History

Rating:

Not Rated

Runtime:

148 min
While major stars thrust together on screen often end up undercutting each other, one of the pleasures of Becket is how easily and generously these two commanding actors play off each other, each allowing the other the space to make the most of their individual roles.

O'Toole just keeps turning up the volume, and it's thrilling to watch.

Burton is extraordinary in one of his rare good movie roles and O'Toole is regally madcap and larger than life. No doubt his Oscar-nominated appearance in "Venus" has prompted this rerelease of Becket. They make a fascinating then-and-now combination.

Becket, now richly restored, is one of those '60s British theatrical spectaculars that we always imagine as a bit better than they were.

There's much to be said for a film that, however cheesily realized, sticks in memory for four decades.

The one thing going for Becket is actually two things: Burton and O'Toole.

Dully overcomposed, the film evinces a Disneyed sense of palace life and reaches a laughable apotheosis when Henry and Becket's rendezvous on a beach is staged as a reunion between scorned lovers. In 1964, the film's innuendo might have seemed daring; today it's close to ridiculous.
Who is Ed Gonzalez and WHY is he writing film criticism. Embarrassing! This is a great film that holds up very well after 40 years. Great

Who is Ed Gonzalez and WHY is he writing film criticism. Embarrassing! This is a great film that holds up very well after 40 years. Great script, great performances and great looking.

…

Expand

This movie is a treasure for the acting, and for the epic collision of mutual love and respect between two volatile and powerful men on the

This movie is a treasure for the acting, and for the epic collision of mutual love and respect between two volatile and powerful men on the one hand, and political expediency dedicated to empowering state clashing with principles devoted to empowering church on the other. Burton's Becket is consumately worthy of a king's love and respect. O'Toole's portrait of a man (King Henry II ) more or less selling his soul or betraying heart-felt inner truths for the sake of power is devastating and strikes grief in the heart of the viewer. This is a timeless story well told, and the Village Voice review is unworthy.

…

Expand

Exceptional film - no wonder it was nominated for 12 Academy Awards.

Splendid. Whether Glenville was the best director for this project (and it does have some stunning cinematic work, regardless of what some

Splendid. Whether Glenville was the best director for this project (and it does have some stunning cinematic work, regardless of what some critics are saying) is difficult to know at this point. This is, after all, a play transferred to the screen, with certain limitations intact. Gonzalez may not care much for the scene on the beach and may express concerns for what modern audiences take from it. However, I would like to think that modern audiences would learn a little about what wonderful writing and superb classical acting sounds and looks like. The trash that is made these days, particularly the pitiful excuse for epic films (Yes, I include Gladiator in this), should be compared to this literate, sweeping film. Dull in parts but intelligent throughout, it was made with TLC and commitment, unlike the computer graphic, mindless goop spilled onto the screen by our so-called film geniuses of today. Come to think of it, if I had my choice between Glenville and the dull witted directors we have to deal with these days, I would pick Glenville any day.

…

Expand