Release Date:

Oct 24, 1969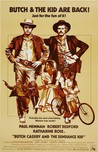 Starring:

Paul Newman

,

Robert Redford

Summary:

The Sundance Kid (Redford) is the frontier's fastest gun. His sidekick, Butch Cassidy (Newman), is always dreaming up new ways to get rich fast. Times are changing in the west and life is getting tougher. So Butch and Sundance pack their guns, don new duds, and, with Sundance's girlfriend

The Sundance Kid (Redford) is the frontier's fastest gun. His sidekick, Butch Cassidy (Newman), is always dreaming up new ways to get rich fast. Times are changing in the west and life is getting tougher. So Butch and Sundance pack their guns, don new duds, and, with Sundance's girlfriend (Ross), head down to Bolivia. Never mind that they don't speak Spanish - they'll manage somehow. (Twentieth Century Fox)

…

Expand
Director:

George Roy Hill

Genre(s):

Adventure

,

Drama

,

Crime

,

Western

Rating:

M

Runtime:

110 min
Please enter your birth date to continue:
You are not allowed to view this material at this time.
Note-perfect performances, a screenplay steeped in both nostalgia and a timely sense of insight, and anti-heroes you can't help but love.

Butch Cassidy's winking awareness of its own cinematic nature (from the opening "silent movie" train robbery to the famous closing freeze frame) and witty banter give the story a degree of charm and exuberance.

The movie is jovial without being silly; it retains the sense of adventure that characterizes the Western, but replaces the often somber mood with one that is airy and, at times, almost comedic.

The over-all production is very handsome, and the performances fine, especially Newman, Redford, and Miss Ross, who must be broadly funny and straight, almost simultaneously.

This good movie is buried beneath millions of dollars that were spent on "production values" that wreck the show.

George Roy Hill's 1969 film moves with steady, stupid grace from oozy sentimentality to nihilistic violence.

Every character, every scene, is marred by the film's double view, which oscillates between sympathy and farce.
This review contains spoilers, click expand to view. one of my early favorite western's with that a sweet taste like a plain mexican dish, George Roy Hill's violent western with Paul Newman and Robert Redford as the infamous gunslingers who become the one of the last outlaws of the west to be hunted down in the early 20th century, is tense in climatic as the dashing train robbers are chased out of the desert plateau of railroads and saloons and brothels by a new unstoppable force of law and order to the moist terrains of Bolivia were there final act for redemption is about to take place

Conrad L. Hall's cinematography was well executed within transforming from silent sepia format to color with sound as this western astounds you it rivals Bonnie and Clyde with more ways than one featuring my favorite oscar winning song "Raindrops"

…

Expand

How can a movie get any better than this. From the one liners, the chemistry between Newman & Redford, the score. I rate all movies based off

How can a movie get any better than this. From the one liners, the chemistry between Newman & Redford, the score. I rate all movies based off this movie. This is a masterpiece.

…

Expand

A film that has rightly become a classic. An anti-western with the heroes on the run for most of the film, it broke the mould in how westerns

A film that has rightly become a classic. An anti-western with the heroes on the run for most of the film, it broke the mould in how westerns were being made. Great performances from Newman, Redford and Ross, beautifully shot and told, "Butch Cassidy and the Sundance Kid" is great viewing again and again and again.

…

Expand

your anti hero western! this movie is based around two characters played by (paul newman and robert redford) there acting is great this movie

your anti hero western! this movie is based around two characters played by (paul newman and robert redford) there acting is great this movie is great. this movie does lean towards the characters chemistry most of the time, but thats whats great this about it. i recommend watching i give it a 8.5

…

Expand

Really good film. The chemistry between Paul Newman and Robert Redford is infectious as one picks up right where the other left off the entire

Really good film. The chemistry between Paul Newman and Robert Redford is infectious as one picks up right where the other left off the entire film. It was also unexpectedly quite funny, as the one liners were just priceless and show why the screenplay has received so much praise and why it deserves all of that praise. As with most of these classic westerns, the cinematography and set pieces were phenomenal and in this one, the action sequences were great and incredibly intense. The chase sequences were also great and I love how we are kept in the dark as to who is following them, just as they do not know. While I loved this, there were some definite negatives. First of all, there was no real plot, other than focusing on the exploits of Butch and Sundance, though it does not really go anywhere. Not a major complaint, but a complaint nonetheless. Another small complaint would be the pacing, as at times it got a tad too slow, but throughout much of the film, the slow pace was never that much of a problem. My main complaint would be Katharine Ross. Her acting here, in my opinion, was just flat out bad. I never really bought into her character and she was severely outclassed by her two legendary castmates.

…

Expand

This movie shows us that a western film can be entertaining and intriguing without a bad ass main character that wins 3:1 gunfights. Its a

This movie shows us that a western film can be entertaining and intriguing without a bad ass main character that wins 3:1 gunfights. Its a slow pace experience that keeps you curios and makes you laugh with certain scenes and events.

…

Expand

This review contains spoilers. "Gorge Cassidy" (Paul Newman), a.k.a. "Butch Cassidy", and "Lonny Longbaugh" (Robert Redoford), a.k.a. "The Sundance Kid, are two of the greatest robbers in the history of the Old West. They pulled jobs on banks and trains with an expertise that made them famous from coast to coast.

Now, years after being out of the business for about two decades, they decide to pull one last bank heist in Bolivia, with the help of a school teacher (Katharine Ross) with romantic ties to both men.

I have to say that I am pretty disappointed in this film. I found it to be slow, with not enough action considering the topic of the movie. It dragged so much that I noticed spending more attention to my computer than watching the movie itself on cable television.

One thing that stood out was the on-screen relationship between Newman and Redford. This is what carries the movie I believe, and most likely why this movie is called a classic now. You feel as if the two are not just partners in crime, but friends with the ribbing that they give one another.

Another problem with this movie is the soundtrack. The only piece of music that is memorable is Raindrops Keep Fallin' on My Head by BJ Thomas, and that was a weird tune for a Western set in the Old West. If you ask me, the song was just an odd choice.

I also barely enjoyed Ross as "Etta Place". Her character was barely developed if you asked me. It appeared that she was there as a romantic interest, and to help teach "Butch" and "Sundance" Spanish for their attempt at robbing the Bolivian bank.

If you expect a lot of gunfights, you are mistaken on this one. Of what there is in the movie, they are short and well placed.

The cinematography is hard for me to judge since Encore Westerns used a pan-and-scan format. I had to deal with only half of a scene when two people were talking to one another. But, from wide shots, I could see some spectacular scenery, including the famous scene when the title characters jump from a cliff into the water.

Because it was declared a classic, I've been wanting to see this movie. I am highly disappointed in it.

…

Collapse