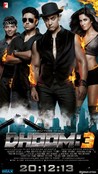 Dhoom: 3 has — by far — the best action set pieces of the series.

Dhoom:3 entertains as a spectacle of chases, bank capers, magic acts and song-and-dance numbers.

At their best, the lush yet punchy musical numbers that Acharya stages for Dhoom: 3 reach giddy heights of pop romanticism.
But be patient, because the narrative and thrills speed up in the second half. The big plot twist has been ripped off from Christopher Nolan's

But be patient, because the narrative and thrills speed up in the second half. The big plot twist has been ripped off from Christopher Nolan's The Prestige, which was based on a book of the same name, but still, what Aamir does with it is remarkable. He's endearing, sweet and sad all at once. You can't look away from him. None of the others is as compelling Uday Chopra does nicely as the tapori Ali, leaving the proceedings with much-needed humour. Abhishek Bachchan is serviceable and Katrina Kaif does what she is required to do, which is, look stunning. But I think the motorcycles have more screen time than her. So see Dhoom:3 with your expectations at half-mast. It's not the popcorn thrill ride that I expected. There isn't enough joy in it. But Aamir and the stupendous action make it worth watching.

…

Expand

This review contains spoilers, click expand to view. with the exception of judgement i have conclusion that D3 have shown the good colors of Indian cinema.. the movie is astounding Aamir Khan, the actor have made a real good journey with spectators and the possible outcome had presented itself as the most focused screenplay for now

a magician, father of a boy named Sahir (aamir) shoots himself as he is in debt and bank refuses to give him more time.. this is the spoiler... it is entirely focused on that REVENGE plot... sahir breaks down the man who he thinks was responsible... but in performance as he shows the trick it is revealed that sahir have a twin brother..samar..(aamir) who plans this whole events... and in the end both die..

…

Expand

The Great Indian Bollywood Circus! Formulaic but Spectacular & Extremely Watchable [3/5]

It's not very hard to predict what's in store forThe Great Indian Bollywood Circus! Formulaic but Spectacular & Extremely Watchable [3/5]

It's not very hard to predict what's in store for you, if you have booked your tickets to take a roller-coaster ride in the latest & the third installment of Bollywood's first of a kind film-franchise DHOOM: 3. High octane action, vrooming bikes, eye-catching locales, brilliantly choreographed song & dance sequences, fantastic production design & twists in the tale that you can only see it coming just a few moments before it actually comes. So, what are the additional elements that make YashRaj Film's DHOOM 3 an extremely watchable action thriller, better and bigger than the previous two installments?

Written & directed by Vijay Krishna Acharya, DHOOM: 3 is the most spectacular presentation of all in the series, one would never question that, but it's the writing and the performances [I desperately wanted it to make singular but then you'll agree to it after watching it] that take it to another level.

Set in Chicago, story takes you back in 90's when the owner of 'the great Indian circus' [Jackie Shroff in a delightful cameo] kills himself after losing his battle to save the property from financial crisis. Years later, his only son Sahir [Aamir Khan standing tall as a towering inferno] decides to bring the Bank responsible for his father's death down all in the dust by constantly robbing all its branches. With no valid logic behind, ACP Jai Dixit [Abhishek Bachchan in his one-expression mode] & his 'still irritating' associate Ali Akbar from Nagpada [who else?? The 'Uday Chopra'] are called in to help the Chicago Police Department. Rest is the thrilling cat-and-mouse chase sequences with good amount of bike-stunts, an unpredictable pinch of emotions and a satisfying surprise in the box that I wish I could tell you more about.

Though the story seems & is very filmy, formulaic and borrowed straight from some late 70's vengeance potboilers, the surprise in the box alone keeps you thoroughly engaged and entertained. Till the time it reaches you from various sources, I don't want to be the spoiler. All I can say is it brings lots of emotions on the board and in a very well executed manner. Keep guessing!

Of the cast, let's talk about Katrina first. She's sexy, sensuous & stunning as all the Dhoom girls in the past. Though the writing doesn't provide her a good meaty role, watch her introduction scene in the 'Kamli' song and as briefed by the character of Aamir in the film, you are bound to not take off your eyes from her for once. What an electrifying appearance!

Same goes with Aamir. The certain amount of charisma and the sincerity in the performance that he brings with himself is totally infectious. He sets screen on fire in the magical & the magnificent 'Malang' song. Look at the kind of effort he makes to meet the expectations par level to the new generation in industry. Commendable job! This is the most commercial performance of his after GHAJINI.

In a whole 3 hours of duration, it is not plausible that you do not get carried away with some really putting off sequences like the typical 'Uday Chopra' comical scenes, disregard of a good mix of logic in the screenplay and a hurriedly conceptualized love-angle between Katrina & Aamir! But the grand canvas, great production quality, good performance and the surprise element compensate for the most of it. If you love 'no logic' formula Bollywood, you will love it more! [3/5]

…

Expand

This review contains spoilers, click expand to view. Without beating around the bush I have to state that Dhoom 3 was the worst movie I have ever seen. I mean I wouldn't have been that disappointed if this movie had been the first in the series. After two above the average movies in the series with memorable acting, style and songs one expects certain standard of quality from the new one. But it was way below the standard, way below !
The biggest letdown were the action sequences. Seriously, fighting with an Auto-Rickshaw That's really a sorry opening scene for Mr. Abhishek. And of course the bike scenes. The movie was more concerned as to how the thief was evading the cops rather than the actual robbery. That's really irritating. Because you see there is no thrill in that. You know eventually they are gonna get away, atleast with the robbery you get to see some innovative ideas for the heist like in Dhoom 2(though they were cheesy too). But still we get some thrill in the chasing scenes in this movie, like the bike can balance on a rope, remodel itself appropriately in tricky situations (like for instance a motorboat), and conjoin with another bike, jump whenever there is an obstacle, and in all these moment the cops are so stunned that they just can't pull their triggers Those were by far the most intolerable scenes. And adding to the agony was the same Dhoom tune playing over and again in the background. It's like Pritam was really lazy to do anything regarding this movie. Same goes for the songs, they which were much usual and old-fashioned.
Now given the genre of the movie there cannot be many complaints about the character development, except for the thief i.e. The Clown. The movie had a sad and promising part in it, relating to The Clown (the twins). Like how one of them had to spend the whole time in the box, still being the integral part of the magic act, but the other got the whole credit. How one of them had the whole world to him, and the other just his acts. Yes there was a proper basic idea, that too portrayed Mr. Perfectionist himself, in the movie which could have been utilized to make a better soul touching movie, but they just made an another action-masala movie.
The movie was basically about 'The Clown' itself, and Aamir Khan carried out the role with perfection. Whether it was the eccentric magician or the schoolboy kid. But then again there was no actual robbery but ridiculous chasing scenes which made no justification to his acting. Surprisingly Abhishek was better in this movie acting wise from the previous movies. Changing over from bad cop to good cop was something new from him. Uday Chopra had to just carry out the same acting from previous movies, hell he wasn't required in this one. Katrina Kaif had an important role playing the love interest of one of the Aamir, but then again her character was treated poorly with no conviction.
All in all review:
Action: 1/5
Music: 2/5
Direction: 2/5
Acting: 3/5
Overall: 1.5/5

…

Expand

It was like 'The Prestige' crossed with GTA.. a terrible fast &nd furious rip-off.. disappointed with the movie.. 3 hrs of unscripted drama

It was like 'The Prestige' crossed with GTA.. a terrible fast &nd furious rip-off.. disappointed with the movie.. 3 hrs of unscripted drama &nd mindless high speed pursuits.. In simple terms, the movie fails miserably.. This is some of the laziest script writing I've had the displeasure to experience in years..

…

Expand

click here http://www.euroonlinevideo.ru/best/onlayn-filmy-smotret-besplatno-uzhasy.html Онлайн фильмы смотреть бесплатно ужасы
Бесплатныеclick here http://www.euroonlinevideo.ru/best/onlayn-filmy-smotret-besplatno-uzhasy.html Онлайн фильмы смотреть бесплатно ужасы
Бесплатные фильмы онлайн, смотреть фильмы онлайн
Ужасы - Смотреть онлайн фильмы бесплатно в хорошем качестве

…

Expand

Movie has 2 parts Magic and Bike Racing Magic is almost taken from Prestige and The Racing part is just horrible nonsense comedy. Cops

Movie has 2 parts Magic and Bike Racing Magic is almost taken from Prestige and The Racing part is just horrible nonsense comedy. Cops Chasing robbers was main theme of movie

…

Expand