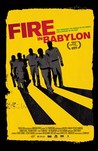 Summary:

Fire In Babylon is the breathtaking story of how the West Indies triumphed over its colonial masters through the achievements of one of the most gifted teams in sporting history. In a turbulent era of apartheid in South Africa; race riots in England and civil unrest in the Caribbean, the

Fire In Babylon is the breathtaking story of how the West Indies triumphed over its colonial masters through the achievements of one of the most gifted teams in sporting history. In a turbulent era of apartheid in South Africa; race riots in England and civil unrest in the Caribbean, the West Indian cricketers, led by the enigmatic Viv Richards, struck a defiant blow at the forces of white prejudice worldwide. Their undisputed skill, combined with a fearless spirit, allowed them to dominate the genteel game at the highest level, replaying it on their own terms. This is their story, told in their own words. (Passion Pictures)

…

Collapse
Director:

Stevan Riley

Genre(s):

Sport

,

Documentary

Rating:

Not Rated

Runtime:

87 min
Crisply shot and edited, with effective use of Ashutosh Phatak's graceful music, this is a powerful documentary that demands to be seen by as wide an audience as possible.

Riley shrewdly maintains focus on how the players co-opted the merciless tactics of their invective-hurling adversaries for their own, and the region's, self-actualization.

It all adds up to an entertaining 88 minutes, despite the film's ramshackle construction and its once-over-lightly approach to political, cultural and athletic history.

This triumph-of-the-underdogs tale is enjoyable in the retelling, despite its repetitious hammering of the message.

A treat for cricket fans who'll thrill to this nostalgic look back at one of sport's greatest teams.

Perhaps because the Caribbean serves as its main setting, Fire in Babylon simply can't help but take it easy.