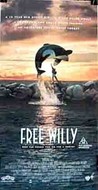 Starring:

Jason James Richter

,

Lori Petty

,

Michael Madsen

Summary:

Captured at sea and confined in a small tank at an aquatic park, Willy (Keiko the Orca whale) is an unhappy and unpredictable attraction. No one understands Willy - except a scruffy street kid named Jesse who knows what it's like to be without a family. Together these two form a special bond

Captured at sea and confined in a small tank at an aquatic park, Willy (Keiko the Orca whale) is an unhappy and unpredictable attraction. No one understands Willy - except a scruffy street kid named Jesse who knows what it's like to be without a family. Together these two form a special bond -- one so strong that they're willing to risk it all to find a way home. (Warner Bros.)

…

Expand
Director:

Simon Wincer

Genre(s):

Adventure

,

Drama

,

Family

Rating:

PG

Runtime:

112 min
Please enter your birth date to continue:
You are not allowed to view this material at this time.
Free Willy (for some strange reason, that tiny imperative just gives me the giggles) is a family picture that stays safely within the haven of a cozy formula, yet does a whole lot of inventive work in the process.

An astute, intelligent family picture, the film is a potent reminder that you can have your heart in the right place and still produce a gripping, satisfying entertainment.

Actually, the film's more serious side is beautifully balanced by the joy we experience as both Jesse and Willy come into their own.

There are extremely touching moments between Jesse and mystical Randolph, who seems to understand just about everything; and, more tellingly, between Jesse and mechanic Jim.

It's an irony too significant to ignore that the movie, which proselytizes against penning up whales in order to make them do cute tricks for humans, spends much of its time making Willy do cute tricks for humans.

Shamelessly manipulative and heavyhanded, it may be an endurance test for those not absolutely entranced by large aquatic mammals.

It's all pretty involving and sweetly ingratiating in a Charlotte's Web-by kind of way.
The best family film ever made that you can watch again and again and it never gets old! They don't ake movies like this anymore, long live

The best family film ever made that you can watch again and again and it never gets old! They don't ake movies like this anymore, long live Free Willy!

…

Expand

This review contains spoilers, click expand to view.

The problem in the movie is great and the characters are very lovable.it's also very realistic and hopefully will make people want to abolish shamu and get the orcas back home like Willy

…

Expand

Brilliant, just brilliant! Amazing, this is a real family favorite and can be watched by everyone, no one dislikes this film! An amazing sense

Brilliant, just brilliant! Amazing, this is a real family favorite and can be watched by everyone, no one dislikes this film! An amazing sense of adventure that will have you on the edge of your seat and falling in love all over again and again! 10 OUT OF 10! BRILLIANT!

…

Expand

This movie is epic in so many ways.

A story of a boy abandoned by his mother, struggling in the world, and the story of a whale capturedThis movie is epic in so many ways.

A story of a boy abandoned by his mother, struggling in the world, and the story of a whale captured from the sea mix together perfectly.

There is a genuine, pure feeling in the story, and the acting is natural and quite superb. The feelings are conveyed from the screen to the viewer without obstacles, and although I'm sure this film is filled with clichés and typical characters, it still manages to hold all the important pieces together.

The plot itself moves at a steady pace, making us wait for a bit for the eventual good stuff - the fast friendship between Jesse and Willy the whale - but it doesn't drag its feet too much.

All in all a prefect, touching family film to be watched again and again.

…

Expand

Call me crazy, but I managed to love Free Willy's entire plot and lovable characters without any scratch attached to it. Also, who could

Call me crazy, but I managed to love Free Willy's entire plot and lovable characters without any scratch attached to it. Also, who could expect a killer whale to be this friendly when they have 'killer' in their name?

…

Expand

As bland as nineties rip-offs of E.T. could get, Free Willy copies that classic down to the smallest detail, but the bond is never felt

As bland as nineties rip-offs of E.T. could get, Free Willy copies that classic down to the smallest detail, but the bond is never felt between the boy and the whale, instead coming across as assembly mind fodder.

…

Collapse