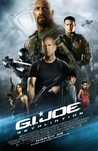 Starring:

Adrianne Palicki

,

Arnold Vosloo

,

Bruce Willis

,

Byung-hun Lee

,

Channing Tatum

,

D.J. Cotrona

,

Dwayne Johnson

,

Elodie Yung

,

Luke Bracey

,

Ray Park

,

Ray Stevenson

Summary:

In this sequel, the G.I. Joes are not only fighting their mortal enemy Cobra; they are forced to contend with threats from within the government that jeopardize their very existence. [Paramount Pictures]
Director:

Jon M. Chu

Genre(s):

Action

,

Adventure

,

Sci-Fi

,

Thriller

Rating:

PG-13

Runtime:

110 min
Please enter your birth date to continue:
You are not allowed to view this material at this time.
An action figure with a sweet core, Johnson can pump up the humanity of any franchise, whether he's playing a stepdad who becomes a hero in Journey 2 or, as here, a stud soldier who treats Flint and Jaye like his grown children and shepherds them through peril. Following those younger Joes, the Retaliation audience is encouraged to clamber up on Johnson's huge soldiers and go along for a pretty cool ride.

It's well-executed technocratic action fluff. But it did leave me buzzed rather than drained.

It's massive, all the retaliation and the world saving stuff. And it's convoluted. Frankly no one should have to think that hard to keep up with the Joes.

Plays like a tiresomely extended evening of channel surfing.

Feels like a five-year-old with a megaphone, excitedly yelling about his latest bulldozer-soldier-dinosaur smash-kill-squash-everything game.

What's the difference between an action figure and an action star? Very little in G.I. Joe: Retaliation, which features no performances of note, even from such combat-tested thespians as Bruce Willis, Jonathan Pryce and Dwayne Johnson.
A very off line Gi Joe movie, I was very excited for this one and it was good. First of all, there is this guy who is not Duke and is not

A very off line Gi Joe movie, I was very excited for this one and it was good. First of all, there is this guy who is not Duke and is not Channing Tatum and he's still in the movie I mean is there some connection Mr. Chu? But, don't listen to me, this is a great oddball creation and is the best action movie so far in 2013 rather than Dead Man Down, and Retaliation has a boost up upgrade to actors, direction, story and screenplay. Rise Of The Cobra was a little disappointing and this sequel has everything- guns, chicks, and- hey! Dwayne Johnson! The film had good pace and timing, it keeps you hooked up till the end. Now, Bruce Willis is in the movie but is he cool in this movie? Duh, he's Bruce Willis and this Muscular Baldie is epic awesome is this movie. So, for the bad critics out there who think that this movie is bad- Watch It Again. I mean, it's a GOOD movie, its what Gi Joe fans want! It just like the cartoons and it has Cobra Menace!

…

Expand

My Opinion *

I've never seen a G.I. Joe, however watching this really gave me a buzz. Sure I understand that some people think that this My Opinion *

I've never seen a G.I. Joe, however watching this really gave me a buzz. Sure I understand that some people think that this film isn't that great, nor as great as it could should have been, however I really appreciated this movie and everything within it. The fight scenes really got my heart racing, and some of the effects and stunts were just fantastic! I give this an 8. It's great, but it's not perfect. Sure it's just another action movie, but mixing action along with martial arts is a rarity. I really recommend this.

…

Expand

This is actually a decent film. Desperately adequate story speckled with some excellent action sequences. The star power factor will keep you

This is actually a decent film. Desperately adequate story speckled with some excellent action sequences. The star power factor will keep you interested for most of your time with this movie as it dissolves into action movie overkill.

…

Expand

G.I. Joe: Retaliation is the sequel to the 2008 film G.I. Joe: The Rise of Cobra i thought that this film should have just been a reboot

G.I. Joe: Retaliation is the sequel to the 2008 film G.I. Joe: The Rise of Cobra i thought that this film should have just been a reboot rather then a sequel. The Film stars Dwayne "The Rock" Johnson getting his team together to help fight against the cobra. The cobra have taken control of the white house the president that's really not the president has ordered that the G.I. Joe's to be killed.

The story slows down like half way in to build some story but it just seems all over the place. Roadblock is over here doing this Snake Eyes is over here doing **** with Storm Shadow which i thought they killed off in the first film yes it's been years since i watched the first one i can't really remember.

The movie was postponed like 9 months for what they said was 3D conversion and to re-shoot some scenes of it after early reviews for it were bad. Also to add Channing Tatum back in the movie as a main character and market the film that way only to have him be killed off rather soon in the film. They do try force some of the story arcs in the film but then they put a lot of explosions in it to throw you off

Also im not sure why Bruce Willis was even in this i assume they just wanted some big name action star to kick some ass as General Joe Colton not that he didn't do a great job but i mean come on it was rather pointless Overall i give it a 5.5 maybe ill re-watch a couple times.

…

Expand

"G.I. Joe: Retaliation" is definitely an acceptable improvement to its terrible predecessor, but the movie still is a mindless mess with

"G.I. Joe: Retaliation" is definitely an acceptable improvement to its terrible predecessor, but the movie still is a mindless mess with terrible acting and over-used action sequences.

…

Expand

While I understand why they postponed release of this film for a year, they clearly needed more time. How can you have that much money to

While I understand why they postponed release of this film for a year, they clearly needed more time. How can you have that much money to make a film and have that bad of a script and that dialogue that is so embarrassing one cannot stop laughing at it. Amazing special effects and tech stuff, really great. Stupid insipid story. Well photographed action and corny and uncomfortable non action. The action is good enough to make it interesting, but just barely.

…

Expand

This review contains spoilers, click expand to view. I saw this movie yesterday. I was looking forward to it having enjoyed Rise of Cobra. But I didn't. The one thing that killed this movie for me, was the death of Duke. This wouldn't have been so bad if he wasn't the main character of the FIRST movie! I kept telling myself, he'll come back, he'll still be alive, he'll make a comeback. But it was not to be. the fact they tried to make me relate to characters that I didn't know is incredulous. The exclusion of Ripcord and loads of other people from Rise, and the lack of the technology also seen in Rise, it just killed it. I would've liked to have seen the Baroness come back as well, as a good guy, but nooo. I got all hyped up for this film and it let me down. Badly. Don't bother buying tickets for it, don't buy the DVD. Rise of Cobra is just better, even if it too wasn't the best movie in the world.

I admit, there were good bits, but there were too many bad bits. So many cons, that I cannot begin to describe them all.

I would've been better off watching The Croods.

…

Expand