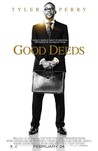 Starring:

Gabrielle Union

,

Thandie Newton

,

Tyler Perry

Summary:

A successful, wealthy businessman, Wesley Deeds has always done what's expected of him, whether it's assuming the helm of his father's company, tolerating his brother's misbehavior at the office or planning to marry his beautiful but restless fiancée, Natalie. But Wesley is jolted out of his

A successful, wealthy businessman, Wesley Deeds has always done what's expected of him, whether it's assuming the helm of his father's company, tolerating his brother's misbehavior at the office or planning to marry his beautiful but restless fiancée, Natalie. But Wesley is jolted out of his predictable routine when he meets Lindsey, a down-on-her-luck single mother who works on the cleaning crew in his office building. When he offers to help her get back on her feet, the chance encounter with someone so far outside his usual circle ignites something in Wesley. This one good deed may finally spark his courage to exchange the life that's expected of him for the life he's always really wanted. (Lionsgate)

…

Collapse
Director:

Tyler Perry

Genre(s):

Drama

,

Comedy

,

Romance

Rating:

PG-13

Runtime:

111 min
Please enter your birth date to continue:
You are not allowed to view this material at this time.
Simultaneously both archetypal Tyler Perry and another step in the direction of nuance and thoughtfulness for the filmmaker.

While Wesley is both too good to be true and an absence of a charisma on screen, Good Deeds is very fair to its two main female characters even as they're both entangled with the same man.

Perry holds back on the finger-wagging, eye-bulging tantrums. There were moments when I was grateful for that. There were others, like the kissy scenes between Perry and Newton, when I began to miss them.

What the film needs more than anything is Perry's alter ego, Medea – a rampaging bowling ball who might knock all these stiff, upright characters spinning.

The melodramatic film has numerous light and comical touches, and the performances are uniformly good. The film's pace, however, has the consistency of molasses, and there's hardly a scene that wouldn't be improved by judicial trimming.

Much cut-rate melodrama ensues, none of it particularly painful to watch, until a ridiculously redemptive finale negates almost all of the preceding dramatic tension and resurrects a cloying Richard Marx chestnut to boot.

Tyler Perry has finally achieved an odd kind of equality that heretofore eluded him: he's now just as mediocre and middle of the road as any other reliable hitmaker in Hollywood.
I saw the movie on opening night in my home town. I think it shows Mr. Perry's growth as a director, producer, screenwriter, and actor in the

I saw the movie on opening night in my home town. I think it shows Mr. Perry's growth as a director, producer, screenwriter, and actor in the arena of major movie releases of the dramatic level, and shows that he's not just limited to plays and comedies. He still has some areas in which to improve, but he's heading in the right direction. Overall the movie was enjoyable and one of his best ones to date.

…

Expand

Tyler perry never makes and stars in a horrible movie. From Madea to being a educated business man he always has a great morale in all his

Tyler perry never makes and stars in a horrible movie. From Madea to being a educated business man he always has a great morale in all his movies. There is a reason why he makes great movies, because he has lived the life, and found god.

…

Expand

"Tyler Perry's good deeds is touching , inspiring and better then his dumb comedies". So far Perry made dumb comedies like diary of a mad

"Tyler Perry's good deeds is touching , inspiring and better then his dumb comedies". So far Perry made dumb comedies like diary of a mad black woman , Tempation . But he created his inspiring movie of his career . Grade A.

…

Expand

I really liked this movie. It`s about real people, and those living in a made up world, that seems great on the outside looking in, but have

I really liked this movie. It`s about real people, and those living in a made up world, that seems great on the outside looking in, but have problems of their own. You can really feel for the characters. I thought it could be a mistake going for a movie like this, but I`m glad I chose it.

…

Expand

Angels:
This is a romance-drama, without Tyler's usual comedic interludes. The characters are believable, indeed likable, their interplay isAngels:
This is a romance-drama, without Tyler's usual comedic interludes. The characters are believable, indeed likable, their interplay is realistic, and the plot lines, for the most part, are believable. Unlike some of Tyler Perry's movies, there was no character who was obviously a contemptible evil creature as in "Daddy's little girls". (O.k. there was one.) Also, there was no character who has such an outsized personality that he could only exist on the screen not in real life. (Well, maybe there was one of those also.) But my point is, the characters were well drawn and multi-faceted. And the story was quite touching. Indeed, when my date and I looked at each other during the movie, we both had tears in our eyes. Alright, I am not the strong silent type, although my date is. The movie was entertaining. I would give it a higher score, but even though the acting was good, the production values were frugal. Look, Tyler Perry is a national treasure. His movies are profitable because he keeps his costs low. As my date said, if you write, direct, produce and star in your own movie you pay one salary for 4 jobs. And Tyler spreads the wealth. He gives work to talented actresses who are not recruited for the high production cost movies; beautiful, and accomplished actresses like Gabrielle Union, and Taraji P. Henson. So thank you Tyler, and God Bless you. And Angels, keep smiling at me.

…

Expand

I saw the new Good Deeds movie on Friday, and I was thought it was gonna be a great non-Madea movie in the series, but I'm really

I saw the new Good Deeds movie on Friday, and I was thought it was gonna be a great non-Madea movie in the series, but I'm really disappointed. This is not exactly what Tyler meant to star in, but the cast looks decent. It's more of the same movies like Meet The Browns and Why Did I Get Married? without the schlock jokes and I think Good Deeds is a mere melodrama than All My Children. I still can't believe they still didn't bring a new Madea trailer for her new movie "Witness Protection" coming soon. But nothing new this weekend and probably I'll wait for Good Deeds to rent on DVD.

…

Expand

One of the worst movies I have seen in a long time, don`t get sucked in to watching it! Any awards Tyler Perry received for Precious should be

One of the worst movies I have seen in a long time, don`t get sucked in to watching it! Any awards Tyler Perry received for Precious should be given to the writer and his license to direct should be revoked!

…

Expand