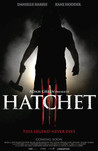 Summary:

A search and recovery team heads into the haunted swamp to pick up the pieces and Marybeth learns the secret to ending the voodoo curse that has left Victor Crowley haunting and terrorizing Honey Island Swamp for decades.
Director:

BJ McDonnell

Genre(s):

Action

,

Thriller

,

Horror

,

Comedy

Rating:

Not Rated
Please enter your birth date to continue:
You are not allowed to view this material at this time.
There's something curiously underwhelming about the blood-soaked mayhem on display in Hatchet III.

The execution, however, leaves something to be desired, as this effort seems more visually muddled and choppier than previous installments.

BJ McDonnell, too hesitant to stray from the beaten path set by Green's previous films, lacks the looser, more whimsical hand that would have allowed Hatchet III to transcend its thoughtlessly imitative state.

Will there be a "Hatchet IV''? I shudder to think about it.

A film that plays like a long, tedious inside joke for fanboys.

The crowd that likes these things will certainly be psyched. Everyone else, not so much.
This movie is very striking with more horror than the previous plot giving a special touch on a sequel so well done. Deaths are more violent

This movie is very striking with more horror than the previous plot giving a special touch on a sequel so well done. Deaths are more violent and more serious than the previous film. It's like Friday the 13th, but much better with more techniques and more deaths. I think this movie deserves to win awards for excellent performances and especially Danielle Harris is more acclaimed playing the role of Marybeth.

…

Expand

Not as good as the second but it was still an entertaining gory movie.The story might not be as interesting as the previous ones but, it was

Not as good as the second but it was still an entertaining gory movie.The story might not be as interesting as the previous ones but, it was the grand finale and if you saw the first two, you can't miss this one.

…

Expand

I missed out on the previous Hatchet films, but I really had a good time watching this. The gags were great. hilarious set ups, but always

I missed out on the previous Hatchet films, but I really had a good time watching this. The gags were great. hilarious set ups, but always satisfyingly gory, and there's no cgi to ruin it. I liked the witty dialogue, even though its purposely cheesy. There's a few horror cameos that surprised me for a low budget movie. After seeing this I had to watch the previous film the next day on demand.

…

Expand

Hatchet 3 manages to be submersive and scary with a bloody hell blood ride but depresses towards the end and just gets SAW head slasher gory

Hatchet 3 manages to be submersive and scary with a bloody hell blood ride but depresses towards the end and just gets SAW head slasher gory flick for the audience to snooze around.

…

Collapse

This movie was better than the last 2. Which was not hard as they lacked proper pacing. Both movies had all major deaths occurring in the last

This movie was better than the last 2. Which was not hard as they lacked proper pacing. Both movies had all major deaths occurring in the last 20 minutes of the film. This film is just gore throughout which is a major improvement. However, the acting is terrible with the main character Mary-Beth stuck between being a snarky badass heroin and a whining idiot. Everything you expect to happen, happens. There's no surprises. If you expect a brilliant film, you're going to be disappointed. If you expect an average horror movie, you'll have a decent time as it hilariously doesn't take itself seriously.

…

Expand

This movie is a DISASTER!The story is stupid,the acting is bad,the blood looks like kool aid and isn't even scary.It is just like most really

This movie is a DISASTER!The story is stupid,the acting is bad,the blood looks like kool aid and isn't even scary.It is just like most really bad horror movie sequels.

…

Expand

2 points for the two laughs it gave me, other than that it was a waste of my time. Danielle's accent was all over the place, just like the

2 points for the two laughs it gave me, other than that it was a waste of my time. Danielle's accent was all over the place, just like the second. Sometimes it was great, sometimes if was non-existent, and sometimes it was downright terrible. The kills were the same old same old. It was pretty much a film by numbers "Hatchet" edition.

…

Expand