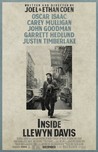 Please enter your birth date to continue:
You are not allowed to view this material at this time.
While the bleak, funny, exquisitely made Inside Llewyn Davis echoes familiar themes and narrative journeys, it also goes its own way and becomes a singular experience, one of their best films.

What Inside Llewyn Davis is all about: the passion, and the pain, of being an artist.

The Coen brothers on top sardonic form with a winning tale of an incorrigible loser. Hits the right note on every level, from period vibe to performance (human and feline).

In top form, Joel and Ethan Coen offer up feel-bad experiences that, like fine blues medleys, make you feel good (although with an acidulous aftertaste). Inside Llewyn Davis is one of their best. So many movies are emblazoned with happy faces; this one wears its sadness, and its snarl, proudly.

The film's centerpiece is Mr. Isaac's phenomenal performance. He's an actor, first and foremost, who is also a musician.

Folk standards such "500 Miles," "The Death of Queen Anne" and "Dink's Song" infuse the movie, and as in the Coens' "O Brother, Where Art Thou?" T Bone Burnett has done first-rate work supervising the musical landscape. The film, I think, falls just a tick or two below the Coens' best work, which for me lies inside "A Serious Man" and "Fargo."

The movie is so "interior," it so zeroes in on Isaac and his baleful stare, that we're relieved any time something overtly funny happens.
INSIDE LLEWYN DAVIS is a feat of filmmaking, taking the gentle strains of folk music and revealing it for the revolutionary act that it is.

INSIDE LLEWYN DAVIS is a feat of filmmaking, taking the gentle strains of folk music and revealing it for the revolutionary act that it is. Not just because it has been the soundtrack of many social movements, but of personal ones, too. Oscar Isaac as Llewyn is revelatory, a bone-tired, supremely talented man whose passion for making music is struggling mightily against the whims of the industry and his demons one being the loss of his musical partner to suicide. When Isaac sings, we're transported first to the dusky bars of 1960s West Village and, more important, to the jungle of discouragement and confusion he's living in. It's a powerful performance. Supporting him is a great ensemble, some new to the Coen Brothers family (Timberlake, thankfully subdued and nearly holding his own against the others) and some beloved veterans (Goodman). It's not just Isaac and the cast, though, that makes Inside Llewyn Davis remarkable. The music, with T-Bone Burnett in charge of the soundtrack, takes its rightful place front and center. And the Coens tell the story in a clever, elliptical way that drives home the futility and magic of a time. But it's not all sadness and tears. The Coens' singular humor runs a streak through the entire enterprise. Go see it.

…

Expand

ore. You can tell all of her songs came from the heart. The only thing that I have to say is that I don't think "Run The World (Girls)" fits

ore. You can tell all of her songs came from the heart. The only thing that I have to say is that I don't think "Run The World (Girls)" fits into the album AT ALL. Other than that, the album is flawle

…

Expand

it was something could change something inside of you . the music was coming up and growing up at any stage that made you even watch some

it was something could change something inside of you . the music was coming up and growing up at any stage that made you even watch some scene again .
thank you coens

…

Expand

This was the movie I was looking forward to the most of the current highly reviewed films. The music was great and the acting was good but the

This was the movie I was looking forward to the most of the current highly reviewed films. The music was great and the acting was good but the plot never seemed to go anywhere. I never felt very attached to any of the characters except Llewyn and his character was kind of an ass.
Not bad but not that great either.

…

Expand

This review contains spoilers, click expand to view. I cannot understand why many people rate this film very highly. Nothing happens, literally. The end is the same as the beginning albeit with the addition of Bob Dylan playing on stage. Big whoop. I understand the meaning behind this; if you don't change anything about yourself or your situation then you're destined for repetition.

Don't get me wrong. The music is quite good and captures the essence of that era. Isaac has a beautiful voice to boot. But you're probably better off buying the soundtrack instead of seeing the movie. Each performance in this film is certainly impressive and I wouldn't be surprised if Justin Timberlake does a folk music album.

Back on the film itself was disappointed by the supporting cast. Everyone is quite suitable in their roles but we're not given enough time to care they appear. Llewyn is the main character and it makes sense he is the focus. However he is unlikeable because he is definitely annoying and unpleasant. I commend Oscar Isaac for nailing that. The two main women in Llewyn life have permanent PMS because they are always annoyed or angry so well done for showcasing realistic women. As for the rest they're onscreen and then they're gone as they don't matter to the story, considering there is little story to tell, they're just passing by. To the audience they may as well not have appeared at all. One exception is John Goodman as the vicious jazz musician. His appearance is a highlight for me, particularly on how he describes how talent-less folk musicians are with their limited, simplistic use of music: "C, G, C".... folk music hasn't changed much in 50 years.

And that leads me to this categorization of this film: comedy-drama. Really? I realize categorization helps people classify something but this is not a comedy drama. First and foremost this is a drama, with a different and interesting setting, with some comedy thrown in to lighten the melancholia throughout. It isn't laugh out loud comedy either, rather it gives us quite a few snickers, giggles and chuckles.

My lasting impression is that hype has helped sell this film and this hype has blinded many to believe this is a terrific film. It isn't. Appreciate the different setting and solid musical performances.

…

Expand

I understand that the movie's intention is to be dreary, bleak, and so on, but it comes off as boring, overlong, and with no satisfying

I understand that the movie's intention is to be dreary, bleak, and so on, but it comes off as boring, overlong, and with no satisfying conclusion. The music was a mixed bag with more bad than good. Some characters felt worthless.

…

Expand

We simply did not get this. Maybe you need drugs to appreciate it. First and foremost, the folk music era (which was during high school for

We simply did not get this. Maybe you need drugs to appreciate it. First and foremost, the folk music era (which was during high school for us) was very short lived...for a good reason. Rap music has been around longer. And frankly, I thought the original music and screenplay from A Mighty Wind, a spoof on this era, was far superior. At the end, I thought I had watched a French film; it was just made by Americans. You know the kind. People you never really can connect with don't say much and nothing ever happens and there is an ending that is purposefully enigmatic. All in all nothing happened to anybody. This guy was very hard to like; he's a loser who's only shred of accountability is trying to care for his friend's cat. I also didn't like the shrewish ex girlfriend or whatever she was to him. HIs deceased partner in music...what was that all about? The trip from NY to Chicago and back in the wind and snow was for what purpose? I guess to allow John Goodman a chance to give a brief quirky inexplicable cameo. What did it show us about Llewyn except more of what a pathetic boring loser this guy is. Good grief! And the music definitely evoked all the memories of how puerile most folk music was. If you want to watch a meaningful comment on that brief period, don't miss A Mighty Wind. It exposes all the phony, quasi-intellectual sappiness in the most hilarious scathing way. An utter delight.

…

Expand