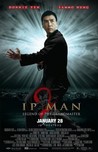 Summary:

During the Sino-Japanese War, Ip Man protected the dignity of Chinese by his wushu (martial art). As he had beaten the Japanese army and made them mad, he had to escape. After the war, the family lived in Foshan and experienced hardship. Ip therefore went to Hong Kong to start a new page

During the Sino-Japanese War, Ip Man protected the dignity of Chinese by his wushu (martial art). As he had beaten the Japanese army and made them mad, he had to escape. After the war, the family lived in Foshan and experienced hardship. Ip therefore went to Hong Kong to start a new page with his family in 1949. (Mandarin Films)

…

Expand
Director:

Wilson Yip

Genre(s):

Action

,

Biography

,

History

Rating:

R

Runtime:

108 min
An energetic, witty and altogether well-built martial arts drama that is familiar in many ways but distinguished by its high level of craft, its sincere sentiment and drama, and the forceful charisma of its star, Donnie Yen.

Choreographed by the film martial-arts veteran Sammo Hung, the fights are spectacularly designed and performed, relying more on muscle and skill than wirework.

A reminder of the pleasure of classic martial-arts films in which skilled athletes performed many of their own stunts.

Compared to his stellar hit "Ip Man" - a biopic on the Wing Chun master who tutored Bruce Lee - Wilson Yip's more lavishly produced sequel Ip Man 2 is a fistful of hits and misses.

A superbly well-crafted film, faithful to its cultural and cinematic heritage, and easily one of the most enjoyable entertainments of a still nascent 2011 post-holiday season.

If you're searching for pure, unadulterated fisticuffs joy, you could do far worse than Ip Man 2.

If the movie packs a weaker punch than the original, it has less to do with the action sequences than the script (by Edmond Wong, son of Raymond, who wrote the first), a flimsy affair with subpar villains.
An awesome follow up of the first movie. I thought that maybe the second movie would be a bit stretched out, but they seem to have a great

An awesome follow up of the first movie. I thought that maybe the second movie would be a bit stretched out, but they seem to have a great formula for great kung fu movies. Hopefully they make another

…

Expand

Ip Man 2 lived up to the hype that followed after the success of the first movie. The suspense will never be as great as the first as the war

Ip Man 2 lived up to the hype that followed after the success of the first movie. The suspense will never be as great as the first as the war is already over. However, the movie makers were able to successfully create a whole new feeling of "fighting for survival" that was the theme for the first movie, this time in a more subtle way. It wasn't literal anymore - to survive the war - but to be able to "live"

…

Expand

Less than the first part, but it does not mean it was bad true that there greatly exaggerated in strength and a goodness of the teacher ip and

Less than the first part, but it does not mean it was bad true that there greatly exaggerated in strength and a goodness of the teacher ip and the story looks traditional and non-new seems in many cases similar to the film FEARLESS representative of China Jet Li and then the other can be predict eventually the film is a beautiful trip in the love of others tolerance and not to surrender and defend the homeland

…

Expand

Ip Man 2 is a great sequel to the first. It has skillfully choreographed fight scenes mixed in with the history of Ip Man. I was happy and

Ip Man 2 is a great sequel to the first. It has skillfully choreographed fight scenes mixed in with the history of Ip Man. I was happy and excited to see some familiar faces appear left and right. All in all, a great addition to the Ip Man track just falling right below the first Ip Man film.

…

Expand

Not as good as the first Ip Man, however, still worth a watch. Seems a little bit more "hollywood" than the first film, particularly in the

Not as good as the first Ip Man, however, still worth a watch. Seems a little bit more "hollywood" than the first film, particularly in the plot line, but again what do you expect? The fight scenes are still very good, so definitely worth watching if you're into kung fu films. DVD Rental: Yeah, why not.

…

Expand

Very Good movie. Not nearly as good as the first but still good. It felt like the second half of the movie basically just copied Rocky IV. I

Very Good movie. Not nearly as good as the first but still good. It felt like the second half of the movie basically just copied Rocky IV. I mean if anybody has seen Rocky 4 they would know what I mean. I still recommend this movie though and would advise people to see the first one. Please don't listen to the critics despite the metacritic score the first one is better(in my opinion anyways).

…

Collapse

This review contains spoilers, click expand to view.

I very much liked Ip Man giving it an 8. The mystique surrounding this melodrama of a real figure drew me into the character. IM2 focuses more in depth on IM's assimilating to his new life. The story with the corruption of the police by the British was hokey and predictable. While I enjoyed the fight scenes there were too many and always the same, save for the final fight, which reminded me of Rocky. The eastern vs western match did not distinguish the styles and why one might be better than the other. There was nothing surprising, none of the characters did anything but what I expected. Overall I was disappointed.

…

Expand