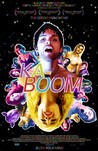 Summary:

The latest film from iconoclastic independent filmmaker Gregg Araki, Kaboom is a hyper-stylized "Twin Peaks" for the Coachella Generation, featuring a gorgeous young cast. A wild, witty and sex-drenched horror-comedy thriller, Kaboom tells the story of Smith, an ambisexual 18-year-old

The latest film from iconoclastic independent filmmaker Gregg Araki, Kaboom is a hyper-stylized "Twin Peaks" for the Coachella Generation, featuring a gorgeous young cast. A wild, witty and sex-drenched horror-comedy thriller, Kaboom tells the story of Smith, an ambisexual 18-year-old college freshman who stumbles upon a monstrous conspiracy in a seemingly idyllic Southern California seaside town. Kaboom shares key touchstones of Araki's early films, including scatological and absurd Valley-inflected dialogue, elements of campy gore and Araki's troupe of arrestingly sexy guys and girls. With his sophisticated synthesis of various experiments in tone and cinematography, Araki has reached a new level of artistic maturity. (IFC Films)


…

Expand
Director:

Gregg Araki

Genre(s):

Sci-Fi

,

Comedy

Rating:

Unrated

Runtime:

86 min
It's by far the funniest and warmest movie Araki has ever made, with much less juvenile angst and much more command of his craft.

The movie ends abruptly-too abruptly for my taste-but the gaiety lingers through the closing credits. Not even apocalypse can dispel the sexy vibes.

Kaboom lets Araki play with carnality as opposed to cautioning against it.

The movie has been cast, designed, clothed, scored and edited to the bleeding edge of hip, but it hasn't exactly been written.

With Kaboom, Araki takes a huge step backward from the maturity and restraint he demonstrated in 2004's "Mysterious Skin," his best and most-assured film to date.
The best movies are the ones that you can't stop thinking about. This is one of those movies. It's one of the coolest, trippiest, most screwed

The best movies are the ones that you can't stop thinking about. This is one of those movies. It's one of the coolest, trippiest, most screwed up movies I've ever seen, but it's quirkiness allowed it to lodge itself into my brain. While this movie probably isn't the best you will ever see plot-wise, it makes up for its flaws in its art, as a unique and sexy teenage com/dram.

…

Expand

Greg Araki's movies just have a fresh feeling to them - a sense of style that other movies lack. This one feels like it's from another era,

Greg Araki's movies just have a fresh feeling to them - a sense of style that other movies lack. This one feels like it's from another era, but it's fun as hell. I saw his "Splendor" a few years back and thought it was fairly conventional, but Kaboom is campy, B-movie fun with a ton of laughs. I liked how he used the UC San Diego building from Attack of the Killer Tomatoes.

…

Expand

One thing's for sure - watching Kaboom is an experience. A tale of young adult sexuality with supernatural and sci-fi elements, there's very

One thing's for sure - watching Kaboom is an experience. A tale of young adult sexuality with supernatural and sci-fi elements, there's very little even remotely like it out there. The closest comparison I can think of is Donnie Darko, a similar tale of troubled young adults with a bit of a "weird factor" thrown in (and coincidentally James Duvall, who played Frank in Richard Kelly's film is also in this). The young cast are all pretty good, with Thomas Dekker's Smith and Juno Temple's London forming the emotional core of the film, and with Haley Bennett's Stella and Chris Zylka's Thor providing the majority of the film's comic relief. The film is effective as a relatively light-hearted, but intelligent and thoughtful comment on sexuality. Towards the end of the film, where things get a little weirder, I'm not quite sure to what extent the film manages to retain its composure. I admire indie veteran director Gregg Araki for his ideas, his originality and for his visual prowess, but I do feel he gets carried away with his undeniably unique world-view now and again - sometimes a little less is more. Perhaps I need to see a couple more of his films to really "get him". Even so, Kaboom is a strangely rewarding viewing experience (with "strangely" being the key word in that statement) that you're likely not to forget for a good long while.

…

Expand

This movie is a huge mess, but it's such hilarious and campy fun. I saw it back in September 2010 when it premiered at the Toronto

This movie is a huge mess, but it's such hilarious and campy fun. I saw it back in September 2010 when it premiered at the Toronto International Film Festival.
Gregg Araki has made far better films, but this one is a joy to sit through (even though the plot holes are massive). I wouldn't really recommend to see this in theaters, but it's definitely worth a look.

…

Expand

"Kaboom" is an explosion of colours, sex and...no more. Story has no logic. Purpose of the protagonist is not clear. "Kaboom" seems to be made

"Kaboom" is an explosion of colours, sex and...no more. Story has no logic. Purpose of the protagonist is not clear. "Kaboom" seems to be made by a person smoking marijuana is exceeded. It seems a bad Almodóvar film. The best of film? Juno Temple.

…

Expand

This movie sucked what was going on this entire movie there was some funny parts but this was a hugggggggggggggge step down for the actors

This movie sucked what was going on this entire movie there was some funny parts but this was a hugggggggggggggge step down for the actors sorry cast and filmakers of this film or am i

…

Expand