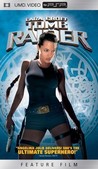 Starring:

Angelina Jolie

Summary:

The fate of mankind rests in the hands of one Lara Croft (Jolie), a twenty-first century heroine inspired by the most popular interactive video character in history. (Paramount Pictures)
Director:

Simon West

Genre(s):

Action

,

Adventure

,

Fantasy

Rating:

PG-13

Runtime:

100 min
Please enter your birth date to continue:
You are not allowed to view this material at this time.
So monumentally silly, yet so wondrous to look at, that only a churl could find fault.

As cumbersome as most films in this subgenre, Angelina Jolie makes it watchable.

Ultimately, Jolie's efforts to establish a character are dashed against the film's increasingly inane dialogue.

The opportunity to give Jolie the room to swagger like the "Charlie's Angels" or "Crouching Tiger, Hidden Dragon" ladies is utterly squandered, and a video game franchise that might've resulted in a hoot of a film -- has been blown to dust.

Such an inept bundle of work -- crying out for the filmmaking equivalent of Ritalin, but still sluggish as syrup -- that it doesn't even provide an opportunity to ogle properly.

Has the distinction of being a major motion picture that's far less imaginative, and quite a bit more stupid, than the interactive game it's based on.

The game is great fun -- the movie ought to be taken out back and shot.
This movie was the best. I am the biggest Angelina Jolie fan. I give the movie two thumps up. Angelina Jolie rocks as Lara Croft. She shood

This movie was the best. I am the biggest Angelina Jolie fan. I give the movie two thumps up. Angelina Jolie rocks as Lara Croft. She shood make a second. I will certainly go see it.

…

Expand

A fun-thrilled short flick, the ending is stylishly fantasized. The drama is engaging and explains enough character build-up to have an

A fun-thrilled short flick, the ending is stylishly fantasized. The drama is engaging and explains enough character build-up to have an actual action-packed movie with cool stunts. And thats it, finally a movie worth it, only on rental though, its not a theatre movie.

…

Expand

I love Lara Croft: Tomb Raider. Now that's what a good video game movie is all about. I know critics are still feeling the hatred of video

I love Lara Croft: Tomb Raider. Now that's what a good video game movie is all about. I know critics are still feeling the hatred of video game movies affecting Hollywood. Take a look at Tomb Raider: a good, successful, film franchise that's still holding on after all these years and now a reboot is in the works. Although the sequel look a little decent, but I gotta give it up to Ms. Angelina Jolie. She is a phenomenal action star in her own right, marries with Brad Pitt, and of course, she still has the look of a role model. Playing Lara Croft in the movie is just too easy for me to say, but she definitely nailed it. I played all of the Tomb Raider video games, and the original game on PS1 may sorta a lot different than the movie. I really don't trust movie critics and I don't even care what those metascores might say, but can't they get a good and positive reaction, already.

…

Expand

Better than i expected, but seeing as i expected to be absolute rubbish that isn't saying much...so so i suppose if you like a bit of

Better than i expected, but seeing as i expected to be absolute rubbish that isn't saying much...so so i suppose if you like a bit of cambodia and running around shooting people.

…

Expand

Angelina Jolie running around in tight clothes and carrying a gun isn't enough entrainment for me, but, for some, it will be. I'm not saying

Angelina Jolie running around in tight clothes and carrying a gun isn't enough entrainment for me, but, for some, it will be. I'm not saying that's a good quality for them; I'm just saying I think there's a method to the madness of this preposterous thing.

…

Collapse

The problem with Tomb Raider, in my opinion, is that it isn't a movie- it's one long video game that plays itself. Don't get me wrong, the

The problem with Tomb Raider, in my opinion, is that it isn't a movie- it's one long video game that plays itself. Don't get me wrong, the action is entertaining and the dialogue has some wit. But a movie can't rely on video game aesthetics and action to carry the day. It needs characters you can connect to, a story that keeps you involved, and it has to be careful around cliches. A video game is primarily about being immersed in the experience and controlling it, and that's why the Tomb Raider games worked. You had fun controlling an ass-kicking heroine. But the movie doesn't add anything to the video-game formula, and so you're just left with a movie where you wish you were holding a controller, shaping the action yourself. The plot is pure cheese, cliches abound, and Lara gives us nothing that makes us want to root for her besides looking sexy- and that's not enough for a movie to soar.

…

Expand

Ahhhhh!!!!! One of the most disappointing movies that I've seen. I'm usually not so hard on any movies, but this is an exception in

Ahhhhh!!!!! One of the most disappointing movies that I've seen. I'm usually not so hard on any movies, but this is an exception in my book. The only time I was happy was when it was over.

…

Expand