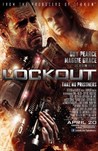 Starring:

Guy Pearce

,

Maggie Grace

,

Peter Stormare

Summary:

Set in the near future, Lockout follows a falsely convicted ex-government agent, whose one chance at obtaining freedom lies in the dangerous mission of rescuing the President's daughter from rioting convicts at an outer space maximum-security prison.(Open Road Films)
Please enter your birth date to continue:
You are not allowed to view this material at this time.
More than any masculine heroics, Pearce's primary job is maintaining the tone: smug, irreverent, and giddily punch-drunk.

The idea of the president's daughter being held captive isn't blindingly original (it's an alarmingly dangerous occupation), but placing the story on a space station is a masterstroke, since we're about filled up to here with prison movies set on Earth.

Most of the time Lockout is pleasant enough, not something to recommend to a friend, but enjoyable in the moment. Guy Pearce has a lot to do with that, as the most impervious action star imaginable.

It's just not quite as much fun as it should be, despite Pearce's best efforts and some good chemistry with Grace. Unusually for an action thriller, this could have benefited from being just a little longer.

Movies like this are supposed to be ridiculous on some level. It's part of the fun. But, dang. Falling through space, popping your parachute and landing on the one empty stretch of freeway in some bustling future city? C'mon. We all have our limits.

Besson co-wrote and produced this cheesy mash-up of elements from James Bond and "Battlestar Galactica."
This is no Fight Club or Braveheart but a VERY GOOD film all the same, if you have been getting sick of all the BADLY made movies lately you

This is no Fight Club or Braveheart but a VERY GOOD film all the same, if you have been getting sick of all the BADLY made movies lately you should see this movie. I don't understand where this bad rating or coming from......maybe people started liking bad movies like Transformers,Battleship or the like.

…

Expand

The dialogue between the two leads and Guy Pearce's pleasant performance make this sci-di drama worth seeing.

Watch this movie hereThe dialogue between the two leads and Guy Pearce's pleasant performance make this sci-di drama worth seeing.

Watch this movie here http://www.watchfree.to/watch-29b2d1-Lockout-movie-online-free-putlocker.html

…

Expand

this is the kind of movie you can't say is a masterpiece, but at the same time you can't stop enjoying. Sure, some special effects are cheap,

this is the kind of movie you can't say is a masterpiece, but at the same time you can't stop enjoying. Sure, some special effects are cheap, sure some lines you've heard over and over again. But these days, this one is as good a b movie as it gets. This isn't Guy Pierce's best performance, but he gets the job done as an off the map cop that only does things his own way, tells jokes, gets punched (and punches) a lot and kick a lot of ass. This is like Escape from New York meet the Transporter. Generic ? Kinda. Easy ? in a way. But enjoyable ? Sure is too.

…

Expand

This review contains spoilers, click expand to view.

In the later part of the 21st-century the worst criminals the planet has to offer are kept safely away from public in stasis aboard an orbiting prison known as MS: One. Although it is never explained in the film, it does not take a rocket scientist to guess that â

…

Expand

"Lockout" is a movie by a studio that decided to make a script by throwing the scripts of past blockbusters into a barrel and grabbing chunks

"Lockout" is a movie by a studio that decided to make a script by throwing the scripts of past blockbusters into a barrel and grabbing chunks randomly until there was a unfinished script to film. At times the movie has a brush of the feeling of a good summer blockbuster movie but trades it for over the top action that seems cartoon like in a movie that demands realism. Guy Pierce is great as the hero but with dialog that goes on to long, the hero is a bit too dis- interested in the happenings around him. Mix that in with some quick editing, useless over the top violence, and yet another sci-fi movie race against the big bang at the end, and you have a missed opportunity. The idea of John McClane in space is great if only it was done a bit better.

…

Expand

Lockout is never meant to be a serious, Guy Pearce can do what the best he can with steroid and junk jokes from Luc Besson but well, somehow

Lockout is never meant to be a serious, Guy Pearce can do what the best he can with steroid and junk jokes from Luc Besson but well, somehow it's work.

…

Expand

Cheesy as balls, Guy Richie's annoying as hell, smarmy and unlikable. The only thing which could have saved the film for me would be to see

Cheesy as balls, Guy Richie's annoying as hell, smarmy and unlikable. The only thing which could have saved the film for me would be to see him get gang ra!ed by the prisoners at the end. An awful, soulless waste of money and talent.

…

Expand