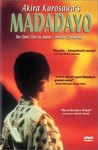 Summary:

In 1943 a beloved professor begins writing full-time. A series of events ensues including old students visiting and a fire that forces him to move.
A profound and deeply moving exploration of facing death with dignity.

It's not one of Kurosawa's great films.... But it is, within its own proportions, nearly perfect.

This warm, celebratory and very public film is punctuated by sudden and luminous private visualizations.