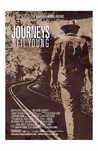 Starring:

Neil Young

Summary:

This past May, Neil Young brought his solo tour to Toronto's Massey Hall, an iconic venue in the city of his birth.
Director:

Jonathan Demme

Genre(s):

Music

,

Documentary

Rating:

PG

Runtime:

87 min
Please enter your birth date to continue:
You are not allowed to view this material at this time.
This time around, the director documents a 2011 Young solo show in Toronto (the musician's birthplace), but in an intentionally fractured way.

It certainly stays alive in this spare and intriguing film directed by Jonathan Demme, who has helmed two previous Young concert films.

Journeys, shot on the last two nights of Young's 2011 solo world tour, is essential Neil Young.

With its one-of-a-kind poetic lamentation, Young's voice sounds more peculiarly lovely than ever. A small picture, but good and true.

Half of one song is performed with a speck of saliva on the camera. More casual fans will twist in their chairs uncomfortably, wishing that a roadie would walk up and wipe it off. Neil Young die-hards will cherish the spittle.

The nicest thing I can think of to say about the doc Neil Young Journeys is that at least it isn't in 3-D.
One of the worst movies ever. 20 minutes of Neil's chin hair with spit on the camera lens. Buy the soundtrack. Great confidence booster for

One of the worst movies ever. 20 minutes of Neil's chin hair with spit on the camera lens. Buy the soundtrack. Great confidence booster for student film makers.

…

Collapse

Neil Young as Norma Desmond ?? How does it go….."…..all you wonderful people out there in the dark"….and ......"mercifully the fantasy now

Neil Young as Norma Desmond ?? How does it go….."…..all you wonderful people out there in the dark"….and ......"mercifully the fantasy now engulfed her"….. Megalomania seems to have taken over a terrific musician and song writer who now appears more inclined to guru-hood and a "fire walk with me" attitude. Also definitely lose the hat Neil !!

…

Expand