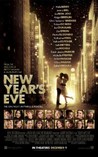 Starring:

Ashton Kutcher

,

Jessica Biel

,

Sarah Jessica Parker

Summary:

"New Year's Eve" celebrates love, hope, forgiveness, second chances and fresh starts, in the intertwining stories told amidst the pulse and promise of New York City on the most dazzling night of the year. (Warner Bros.)

Director:

Garry Marshall

Genre(s):

Comedy

,

Romance

Rating:

PG-13

Runtime:

118 mins
Please enter your birth date to continue:
You are not allowed to view this material at this time.
New Year's Eve is dunderheaded kitsch, but it's the kind of marzipan movie that can sweetly soak up a holiday evening.

New Year's Eve is not unbearable. It's not bad, but it's not good, either. It delivers exactly what you expect: pretty faces, shallow romance and a mythical fanaticism about an event in a friendly Manhattan unblemished by hyper-vigilant security measures, obnoxious drunks or New York Jets fans.

An inferior retread of Marshall's equally contrived "Valentine's Day," only dressed up with coats and confetti.

New Year's Eve is fun in the way that eating at a buffet is fun. It's two hours of foods that have nothing to do with each other piled high on a plate because it was too cheap to resist.

The sanitized setting and sappy script are so littered with cardboard characters and crass product placements that you'll mourn for the muggers and porno theaters that De Niro cursed in "Taxi Driver."

Even with the bar lowered, this seems appallingly bad, a lazy assortment of weak punch lines, sentimental music cues, and trite situations.
It all comes down to what you expect before you start watching the movie. I expected cheesy, sappy, chick flick and basically this is what

It all comes down to what you expect before you start watching the movie. I expected cheesy, sappy, chick flick and basically this is what I've got. However, I was surprised by some of the stories (Michelle Pfeiffer & Zac Efron, Josh Duhamel). I would like to point that Michelle & Zac have a very strange chemistry and their story seemed believable and offered hope. This movie is a great holiday movie as it awakes optimism and strengthens the belief that finally everything will be alright. Everything else, really doesn't matter...

…

Expand

Didn't go into it expecting too much but was pleasantly surprised It's corny I'll give it that but it's also an enjoyable film to watch, plus

Didn't go into it expecting too much but was pleasantly surprised It's corny I'll give it that but it's also an enjoyable film to watch, plus it's fun guessing what's going to happen next! The all-star cast works well together especially the couples linked with one another. It's similar to other films with large casts like 'Love Actually' and while not as good as that was it's still a decent effort and it will hit the right audiences, so overall it's worth a shot.

…

Expand

how delicious for critics to sink their teeth into and lambaste movies. i'm an armchair critic, buti kinda liked this one. consider all them

how delicious for critics to sink their teeth into and lambaste movies. i'm an armchair critic, buti kinda liked this one. consider all them boy gets girl/boy loses girl/boy gets girl twaddle flicks that've fared better than news years eve.

…

Expand

Likable cast, but completely pointless. I honestly have no idea why this movie was made. Overall I was entertained, but it left no mark on me

Likable cast, but completely pointless. I honestly have no idea why this movie was made. Overall I was entertained, but it left no mark on me whatsoever.

…

Expand

This was so painful. So, so painful. I'm not sure what the draw is to getting big casts and compiling them into crappy holiday movies, this

This was so painful. So, so painful. I'm not sure what the draw is to getting big casts and compiling them into crappy holiday movies, this and valentines day were a huge waste of time.

…

Expand

Don't waste your time with a movie that seems merely to have been made to showcase as many name actors as humanly possible. Story? Im still

Don't waste your time with a movie that seems merely to have been made to showcase as many name actors as humanly possible. Story? Im still not clear on what that may have been. It's not a movie I would tend to go see but I got roped into it and it couldn't have been more painful. At least each actor I can't stand is only in it for a handful of minutes. It seems like just long enough for them to pick up a paycheck really.

…

Collapse