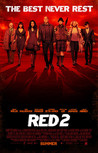 Director:

Dean Parisot

Genre(s):

Action

,

Thriller

,

Comedy

,

Crime

Rating:

PG-13

Runtime:

116 min
Red 2 not only delivers the action, laughs and thrills of the original — in many ways it surpasses it.

Like its predecessor, it's a one-joke movie; the difference is that this time around, the joke is better.

The film has its charms but the end result feels like warmed-over James Bond… and not even especially good 007, at that.

My favorite thing in the movie is the way co-star and Korean action icon Byung Hun Lee uses his feet of fury to hoist a paint can and send it flying.

Willis appears to have finally grown bored of his own shtick, and Malkovich spends most of the movie looking humiliated.

Dean Parisot, who made the delightful Galaxy Quest, has a funnier sensibility than the first movie's director, Robert Schwentke, but he's still defeated by a script that's over-complicated and under-sophisticated.

An awfully expensive and grossly extended Cialis commercial.
Simply put if you are a fan of the first movie and how excellent it was done, then you will enjoy the same formula again with Red 2, its a

Simply put if you are a fan of the first movie and how excellent it was done, then you will enjoy the same formula again with Red 2, its a wonder again with my attempt to understand critic reviews, I wonder how many of them purchase the same bagel, cup of coffee or meal from their favorite establishment. A movie like Red 2 needs to keep with the same formula as the first because it worked another movie that comes to mind is Taken and Taken 2, same formula used with Taken 2 and just as entertaining. Red 2 gets the job done even with a few scenes of absurdity, but coolness blended in, the movie is entertaining. Go See it.

…

Expand

great action and interplay with a awesome cast...fun date night movie....both my wife and I liked it. the line play between the characters got

great action and interplay with a awesome cast...fun date night movie....both my wife and I liked it. the line play between the characters got laughs from the crowd throughout the movie

…

Expand

A highly-watchable but stilted sequel that serves as a complacent sequel to the fun original.

Watch this movie onlineA highly-watchable but stilted sequel that serves as a complacent sequel to the fun original.

Watch this movie online http://www.watchfree.to/watch-29d875-Red-2-movie-online-free-putlocker.html

…

Expand

If you didn't see the first one (or don't remember), RED stands for "retired, extremely dangerous." That applies to Bruce Willis and John

If you didn't see the first one (or don't remember), RED stands for "retired, extremely dangerous." That applies to Bruce Willis and John Malkovich, who set out (with charming Mary-Louise Parker) to save the world from a special bomb. Along the way, they encounter Helen Mirren, Catherine Zeta-Jones & Anthony Hopkins. Watching this A-list cast fight and kill with efficient aplomb is the biggest draw. The action sequences are plentiful and entertaining, while the humor comes more from attitude than lines (and Malkovich's funny faces). This is an old-fashioned spy flick. It's not as good as the original or ground-breaking, but it's still plenty of fun.

…

Expand

Red 2 is fairly entertaining, has some fine characters, also some funny moments. The best thing in it is of course Anthony Hopkins probably

Red 2 is fairly entertaining, has some fine characters, also some funny moments. The best thing in it is of course Anthony Hopkins probably the best actor of recent time. Main plot isn't very good, action par is ok, overall it's slightly above average!

…

Expand

Although not as well constructed as the prequel, these senior action heroes still have gleeful somewhat appealing spy adventure. Like all the

Although not as well constructed as the prequel, these senior action heroes still have gleeful somewhat appealing spy adventure. Like all the movies with collection of stars, RED 2 adds some familiar faces into the mix. Anthony Hopkins and Lee Byung-Hun are nice inclusion, they bring some novelty with nice acting and stunts. The story is far from impeccable, it's a bit rushed, contains too many half-baked plan of infiltration and relies more on firepower than the previous title. However, it is still decent and fun to watch as the cast seem to enjoy the mash, especially towards the end.

Story revolves around the usual conspiracy, framed heroes and zealous contract killers. It passes some points with little explanations, these scenes occasionally turn silly, not in the witty parody of spy flick, but simply ridiculously mindless. Bruce Willis has decent performance, although sometimes he looks overly joking, or just sleepy, and can't be taken seriously. John Malkovich is good, he provides strange nuance as if he's funny with that little grim side tucked away. These two and Mary Louise-Parker seem to be enjoying their roles and it gives the movie a lighter tone, almost comedic even.

Anthony Hopkins is suavely convincing, his voice exudes sophistication although he appears slightly frail from his age. Catherine Zeta-Jones plays the femme fatale from the past, but she's trapped in a generic role and her rivalry with jealous main character is very silly. The martial artist Lee Byung-Hun completes the cast as it's almost mandatory to have an Asian to do all the fight stunts. Surprisingly, he has fairly amount of humor part as well, it won't be a surprise to see him more often in Hollywood movies.

While the cast does possess weighty names, the script is rather weak. Jokes are stale, with only a few of them able to force chuckle. Screenplay also isn't executed neatly as in the first, half of it is predictably sluggish. It picks up the pace towards the end and ultimately ends up passable. More explosives and bullets are utilized, although they are dull and have less impact than they are meant to be. Aside from the occasion tussle and despite the soundtracks' fervent attempt to fire up the audience, the action is only average.

RED 2 has some merits, it's fairly enjoyable, but it's arguably inferior to the first. It is less charming, not as clever and not an appealing case for another sequel, which is a shame since RED has potential to be a smarter version of Expendables.

…

Expand

Lazy, stupid, boring, and unfunny. What is going on with the state of movies these days? Have we forgotten everything about how to make a

Lazy, stupid, boring, and unfunny. What is going on with the state of movies these days? Have we forgotten everything about how to make a decent movie? I'm thinking this must be made for very stupid children.
How about adding some suspense, by not mixing the emotional tone of the movie every damn 2 minutes. Funny, serious, funny, serious, funny, serious, angry, funny and so on. If you mix this with the totally unbelievable conversations, that sound sooo rehearsed, you have a freakin recipe for disaster.

…

Expand