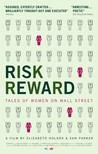 Summary:

A documentary film about four women with the tenacity to pursue high-powered careers in the working woman's final frontier -- Wall Street.
Director:

Elizabeth Holder

Genre(s):

Documentary

Runtime:

88 min
To its credit, the movie has as little patience for nonessential nonsense as the women it portrays.

Holder and Parker tread lightly on issues of sexism, and sex in general, and leave us wishing more questions were asked.

In the end, you're left to pick your moral: Money changes everything or money isn't everything or both.

For all the film's aggressive crosscutting, the individual stories would work just as well apart as together, because they pack less cumulative power when yoked awkwardly into one sweeping statement.