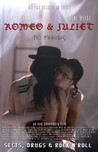 Summary:

A woman struggles to get Romeo and Juliet translated to Yiddish.
Director:

Eve Annenberg

Genre(s):

Drama

,

Comedy

Rating:

R

Runtime:

90 min
There have been many untraditional film adaptations of Shakespeare's, but few have been as unorthodox as this one.

Annenberg's attitudinous Shakespeare riff is a unique blend of psychodrama, ethnographic experimentation, and high-concept hustle.

Sprawling and sometimes confusing, but its premise is charming and not at all far-fetched.

Hearing the majestic iambic pentameter rendered in the sharply rising and falling cadences of colloquial Yiddish proves wackily charming, but the lack of correlation between the two plots makes the result feel unfocused.

What's most disappointing about Romeo and Juliet in Yiddish is how it fails to deliver on the hybridizing NYC gimmickry of its title.

But oy, such terrible jokes and choppy direction. Would it have killed her to share the credits with someone else?