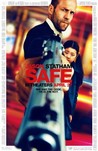 Starring:

Catherine Chan

,

Chris Sarandon

,

Jason Statham

Summary:

A second-rate cage fighter on the mixed martial arts circuit, Luke Wright lives a numbing life of routine beatings and chump change... until the day he blows a rigged fight. Wanting to make an example of him, the Russian Mafia murders his family and banishes him from his life forever,

A second-rate cage fighter on the mixed martial arts circuit, Luke Wright lives a numbing life of routine beatings and chump change... until the day he blows a rigged fight. Wanting to make an example of him, the Russian Mafia murders his family and banishes him from his life forever, leaving Luke to wander the streets of New York destitute, haunted by guilt, and tormented by the knowledge that he will always be watched, and anyone he develops a relationship with will also be killed. But when he witnesses a frightened twelve-year-old Chinese girl, Mei, being pursued by the same gangsters who killed his wife, Luke impulsively jumps to action... and straight into the heart of a deadly high-stakes war. (Lionsgate)

…

Expand
Director:

Boaz Yakin

Genre(s):

Action

,

Thriller

,

Crime

Rating:

R

Runtime:

94 min
Please enter your birth date to continue:
You are not allowed to view this material at this time.
Safe is both a slavish imitation of cinema gone by and a movie for our time. I found it wickedly entertaining and perversely refreshing in its total lack of contemporary piety.

There are zero surprises, but it looks good, moves well through a trim running time and wields its clichés with defiant aplomb.

There's nothing terribly original about Safe, but it's a suitably grimy playground for action cinema's reigning pit bull.

The character-building is proffered in bad faith, like every scene in Safe that doesn't involve bloodshed. Statham can sell a punch, but not his own vulnerability.

Safe bangs along respectably enough, all thrown fists and cheeky comments, but it never feels like more than a second-tier video game brought to life.

Now, if only someone would offer this actor a project worthy of the full range of his talent.

Safe arrives filled with bombast and sneers but barely any thrills.
Excelente filme!!!!
Jason Statham como sempre está excelente,com uma atuação genial.
Filme de ação bem cru estilo anos 80 amo isso.Excelente filme!!!!
Jason Statham como sempre está excelente,com uma atuação genial.
Filme de ação bem cru estilo anos 80 amo isso.
Extremamente empolgante

…

Expand

Safe is safe for the most part, not much blood, and no sex scenes.I thought it was a good movie. Did it have allot of action? YES! And what is

Safe is safe for the most part, not much blood, and no sex scenes.I thought it was a good movie. Did it have allot of action? YES! And what is wrong with that? It had a good enough story to fill in between the drama. I don`t understand how people go into a movie like this expecting some kind of deep story.

…

Expand

Safe is an exceptional Jason Statham B-movie that managed to sneak through the cracks during its theatrical release.

Watch here for freeSafe is an exceptional Jason Statham B-movie that managed to sneak through the cracks during its theatrical release.

Watch here for free http://www.watchfree.to/watch-29b318-Safe-movie-online-free-putlocker.html

…

Expand

Good action and fighting scenes but the ending really sucks even though the story is nothing special.

Jason needs to stop doing the B rated movies. He is much to good for that. This is another one that is just not up to the standard he

Jason needs to stop doing the B rated movies. He is much to good for that. This is another one that is just not up to the standard he should set for himself.

…

Expand

It's an extremely violent film and shows many racial stereotypes too, although I liked the fact that it shows a Chinese girl who is a

It's an extremely violent film and shows many racial stereotypes too, although I liked the fact that it shows a Chinese girl who is a mathematical genius (another stereotype). I love Jason Statham as an actor, although I think he should be given a better script to show off his acting chops.

…

Expand

Safe is no thriller. It is, however, convoluted, preposterous, and predictable. There are chase scenes, a couple of gun fights, and

Safe is no thriller. It is, however, convoluted, preposterous, and predictable. There are chase scenes, a couple of gun fights, and occasional fisticuffs--none of which are at all exciting. The fights in Safe are uninspired, messy brawls, done in the modern shaky-cam quick-cut style, which obscures Statham's martial arts prowess. Safe spends 30 minutes setting up a premise that makes no sense, and then does nothing with it. The story of Safe is too complicated, and the characters are too simple. There is no reason to care about what happens to Luke and Mei against two gangs or twenty. Statham delivers one-liners that suggests fun 80's action camp. Safe, however, is not fun. It is dull and tedious. We are told much too early what the code is for; there are no surprises. From then on, Safe is a mechanical exercise, void of any suspense or purpose. Full review on my blog.

…

Expand