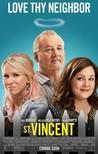 Starring:

Bill Murray

,

Jaeden Lieberher

,

Melissa McCarthy

,

Naomi Watts

Summary:

Maggie (Melissa McCarthy), a single mother, moves into a new home in Brooklyn with her 12-year old son, Oliver (Jaeden Lieberher). Forced to work long hours, she has no choice but to leave Oliver in the care of their new neighbor, Vincent (Bill Murray), a retired curmudgeon with a penchant

Maggie (Melissa McCarthy), a single mother, moves into a new home in Brooklyn with her 12-year old son, Oliver (Jaeden Lieberher). Forced to work long hours, she has no choice but to leave Oliver in the care of their new neighbor, Vincent (Bill Murray), a retired curmudgeon with a penchant for alcohol and gambling. An odd friendship soon blossoms between the improbable pair. Together with a pregnant stripper named Daka (Naomi Watts), Vincent brings Oliver along on all the stops that make up his daily routine - the race track, a strip club, and the local dive bar. Vincent helps Oliver grow to become a man, while Oliver begins to see in Vincent something that no one else is able to: a misunderstood man with a good heart. [TWC]

…

Expand
Director:

Theodore Melfi

Genre(s):

Drama

,

Comedy

Rating:

PG-13

Runtime:

102 min
Nearly every scene is contrived, but Melfi has a nice way with dialogue, and the cast is uniformly outstanding.

For all the boozed and abusive amusement provided by the great Bill Murray in the good-enough St. Vincent, the moment I liked best was Naomi Watts as a pregnant Russian stripper, manhandling a vacuum across the Murray character's ancient carpet. In movies as in life, it's the little things.

This is first and foremost Murray's show, and the shortcomings in Melfi's script and direction are strangely appreciated. They give this singular comedian, who doesn't do it often enough these days, the room to let his buffalo heart roam.

Stay in your seat for the end credits, in which Murray waters a dying plant and karaokes to Bob Dylan's "Shelter from the Storm." That alone is worth double the price of admission.

The home stretch is drenched in sticky-sweet sentiment, but Murray's fans will rejoice at the chance to see their idol in full-on grouch mode.

St. Vincent has nothing on Rushmore, an obvious forebearer, even though it strains for the same egalitarian spirit of thrown-together family, one that includes a pregnant Russian stripper (Naomi Watts) and a sympathetic but firm Catholic schoolteacher (Chris O'Dowd).
Run don't walk to see this wonderful movie. Bill Murray's acting should earn him an Oscar nomination for Best Actor as it may be his finest

Run don't walk to see this wonderful movie. Bill Murray's acting should earn him an Oscar nomination for Best Actor as it may be his finest work ever! If you are coming to see Bill Murray doing strictly comedy then this isn't for you. He does have deadpan comedic lines in his performance but this is not what this story is about. Murray plays a Senior Citizen where life has beaten him to a pulp. As a result, he's turned his back on humanity. He's a totally broke down on his luck gambler, alcoholic, deadbeat, liar, buys sex, thief, and is short tempered. Not exactly your typical Saint. But underneath this complex man, with all his failings, lies the still beating heart of a warrior. He befriends a small boy who is acted superbly in this masterpiece. He teaches him about life and never to settle for ordinary. Murray's character hides a secret which explains why he's become this miserable old person. Melissa McCarthy plays it straight as the mother of Oliver {the boy}. She is outstanding in a supporting role as she demonstrates she can really act besides just doing comedy. The entire ensemble cast is just terrific. The movie continues to build until it finally reaches its crescendo. If you have blood pumping thru your heart you should really enjoy this movie. This is Murray's showcase movie. Go see and enjoy!

…

Expand

"St. Vincent" 10 Scale Rating: 8.5 (Fantastic) ...

The Good: If Bill Murray doesn't win Best Actor, then it's an absolute crime. Playing"St. Vincent" 10 Scale Rating: 8.5 (Fantastic) ...

The Good: If Bill Murray doesn't win Best Actor, then it's an absolute crime. Playing the crass title character, Murray was outstanding both comedically and dramatically. The film itself is well written, amusing, and emotionally satisfying. Naomi Watts was nearly unrecognizable as Vincent's call girl girlfriend, Daka, and Melissa McCarthy was solid in a supporting role, which was surprising since I typically find that she's the same person in all of her films. One of the best films of 2014.

The Bad: At times the film does go a tad overboard on the sentimentality, especially in the last quarter. Murray's Vincent is also at times almost TOO unlikeable and there are a few scenes that were a little too ham-fisted in driving the point home that he's a curmudgeon.

…

Expand

This is a wonderful movie with a great story which is very un-Hollywood. This is not a mainstream movie and went under the radar due to it's

This is a wonderful movie with a great story which is very un-Hollywood. This is not a mainstream movie and went under the radar due to it's limited release.

It has amazing acting in which Bill Murray never looked so perfect for a role as this. He plays ever aspect of his character well.

This is a great character driven movie as well with spectacular supporting actors who you would not expect.

Simply put an amazing movie which had me in tears at the end because for me this was a real storie and I was vested in those characters.

…

Expand

The film St.Vincent is about Vincent who is a broke old man with gambling, drinking, and smoking issues. When a new neighbor Maggie moves in

The film St.Vincent is about Vincent who is a broke old man with gambling, drinking, and smoking issues. When a new neighbor Maggie moves in with her young son Oliver, Vincent starts babysitting him. Over time he starts forming a relationship with Oliver which could change him.

Now from just the trailers to me it resembled something like that of last year's Bad Grandpa which worried me a little as that was not really funny. I am glad to say that this movie really surprised me. For the first half of it the film focuses on the comedy aspect of then for the second half shifts to a more drama type of film. What is neat about this is while it shifted the movie never completely lost it's comedy, it was always present. The drama was actually very interesting. The movie never got boring, it either had interested drama, funny comedy, or both.

Bill Murray who plays Vincent is very good in his role. He really sells the character and steals the show. Mellisa McCarthy who is Maggie also does an excellent job. Jaeden Lieberher who is Oliver actually does a good job. Usually I am not a big fan of kid actors, but Jaeden Lieberher has quite the performance.

…

Expand

This movie is very entertaining with Oscar worthy performances from Bill Murray and Melissa McCarthy. St. Vincent delivered a very convincing

This movie is very entertaining with Oscar worthy performances from Bill Murray and Melissa McCarthy. St. Vincent delivered a very convincing story with moments where you will be cracking up laughing net moment you will being almost crying. St. Vincent has already obtained two nominations for Golden Globe awards and should receive more.

…

Expand

Though most of the characters in the film are unlikeable, the film itself was likeable enough. The film is fairly dramatic with a few spots

Though most of the characters in the film are unlikeable, the film itself was likeable enough. The film is fairly dramatic with a few spots of well placed comedy. Overall this film is solid, but not spectacular. B

…

Expand

Que? Vaya mierda de película, normalmente me gustan las películas de Bill, pero esta, sincermanete a pesar de su crítica aprobada tanto de

Que? Vaya mierda de película, normalmente me gustan las películas de Bill, pero esta, sincermanete a pesar de su crítica aprobada tanto de críticos como de usuarios no lo veo normal, y menos ese 8,7 que tiene de usuarios, para nada. Por eso la puntuo con un 0 a pesar de que tampoco merezca un 0, si no un 5 como mucho 6, pero si pongo este 0 es porque me parecen mucho mejor las peliculas "Gone girl" y "Nightcrawler" que no esta.

…

Expand