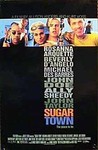 Summary:

The film explores, in authentic detail, the Los Angeles music scene -- a treacherous world where people on every rung of the ladder exploit each other in pursuit of fame and success. (USA Films)
The moments of accidental sweetness that emerge from these odd, ultra-lives are meltingly funny and touching.

Warmly funny ...wise little comedy.

A shapeless comedy that is enjoyable to watch and often clever with its barbs -- and doesn't have very much to say.

While entertaining with its swipes at everything from health food to the Latin pop craze, the semi-sweet story is about as deep and meaningful as a groupie grope.

Neither as lively nor as tough as the original, and compared to the hardcore punk of "Border Radio," the score for Sugar Town sounds like Muzak.