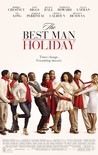 Summary:

When college friends reunite after 15 years over the Christmas holidays, they will discover just how easy it is for long-forgotten rivalries and romances to be reignited.
Director:

Malcolm D. Lee

Genre(s):

Drama

,

Comedy

Rating:

R

Runtime:

123 min
Please enter your birth date to continue:
You are not allowed to view this material at this time.
The Best Man Holiday has the potential to become a staple of Christmastime movie watching in the 'hood.

High spirits mark the first half of the film; quite simply, these guys are just fun to be around – most especially Howard, all half-lidded, cat-who-got-the-cream coolness.

A far more Tyler Perry-ish mixture of comedy and tragedy than the easygoing "Best Man" was, back in the pre-Perry movie era.

The script's sporadic silliness makes every plot turn questionable; how the talent deftly negotiates such goofiness makes the film near-impossible to resist.

Mr. Lee's film is more traditional than its sexually frank humor might indicate, with faith and charity ultimately given pride of place (right alongside human pettiness). But even if some of the crudeness and the drama feel forced, it's hard to hate.

The Best Man Holiday alternates smoothly between raucous comedy and soap opera for a solid hour... Yet the balance begins to tip toward leaden melodrama in the crazily overloaded third act, which speeds past the line separating crowd-pleasing from crowd-pandering.

The sexism isn't quite as noxious as one might find in Tyler Perry's films, but that's as far as the compliments go when it comes to this overextended and deeply crude sermon.
The great thing about "The Best Man Holiday," especially for viewers who were around the same ages as the group in both films is that is shows

The great thing about "The Best Man Holiday," especially for viewers who were around the same ages as the group in both films is that is shows the natural trajectory of the character's lives. The crew of friends that was in their late 20's in the first film is now in their early 40's and struggling with the kinds of life problems that people do over that timespan. Whether it's financial, relationship, family or career oriented, everyone in "The Best Man Holiday" is dealing with something whether it's loss, trust, friendship or love.

…

Expand

This review contains spoilers. I have probably watched the first movie, The Best Man, at least 5 to 6 times since it came out. It was funny, presented new angles for Black actors, and though Christianity, as with most Black films, was in there, it wasn't overdone. As for the sequel, it is rare to get a whole cast to return when more than a decade has passed, and truly I think, when it comes to original movies and not ones based off someone who was alive, this is the best film featuring a Black majority cast in a while.

Characters & Story
In the film, everyone comes back and really the only new editions are the kids of the characters and the obligatory White co-star. For those who haven't seen the first film though, the majority of the casts are all doing White-Collar work. Harper (played byTaye Diggs) is an author, and former teacher at NYU; his wife Robyn (played by Sanaa Lathan) is a Chef; his best friend Lance (played by Morris Chestnut) is a football player who is soon to retire; his wife Mia (played by Monica Calhoun) is a housewife; then there is Jordan (played by Nia Long) who works for MSNBC in a executive producer role; her new boyfriend Brian (played by Eddie Cibrian) who seemingly works on Wall Street; then there is Julian (played by Harold Perrineau) who seems to be a innovator in education, and runs his own school with the assistance of his wife Candace (played by Regina Hall); the last two to mention are Shelby (played by Melissa De Sousa) who is a reality TV star, and Quentin (played by Terrence Howard) who owns a managing firm.

Altogether, they all have the type of lives and careers which make them sound like Cosby Show kids, but they also have quite a bit of drama as well. Most of which is featured in the first movie so I won't go into all that. However, for this movie the idea is coming back together and trying to mend bonds which have weakened due to lack of time, effort and because of bad blood.

Praise
Probably the top thing about this movie is the comedy. This is a tad bit of social comedy in the film, but a large amount of laughs come from them cracking jokes on each other. Some of it is just jabs at one another, like the joke about Harper having a low sperm count, but other times the jokes were vicious like the fight Candace and Shelby have. At the same time though, I must also praise the non-comedic performances. Mind you, those who have seen the original, there is a lot of already existing drama since so many people dated each other, had sex with each other, or liked each other, in the group. Due to this, the chemistry between character and their history causes friction. But, naturally there is one thing which brings them together and bond like a family. Unfortunately though, said situation will bring the tears which makes me glad for Shelby and Quentin for comic relief. For, when I say a situation will bring you to tears, I mean that for at least 15 minutes I was dripping tears, sometimes it getting intense to the point I was lightly shaking and the roof of my mouth was hurting. So needless to say, bring your tissues for the writing and performances will test your sense of empathy.

Criticism
Which leads the few issues with the film. The main issue is that I do feel Harper and Lance's relationship is less natural, in terms of writing and situations, than the rest of the stories. The thing which causes conflict between the two, after they reconcile, specifically is what I felt was sort of forced and was eye-roll inducing. Still, it helped push the story along. The only other issue, and this is really nitpicking, is that Lance brings an almost Tyler Perry style faith in Christianity which only bothered me since I am growing tired of Black characters solely being Christian and not spreading their wings to other faiths, or being agnostic/ atheist.

Overall: Worth Seeing
Usually I count how often I laugh when I see a comedy film, but I enjoyed myself so much I forgot to. Truly, this film reminds me why I watch the original, Love Jones,Jason's Lyric, and other romantic dramedys that came out in the 90s/00s. They remind you, as a movie enthusiast, that there is more out there for Black actors than them doing slave roles, doing buffoon comedy pictures, or doing films based off people's lives. And this isn't to say that there aren't dramatic roles done which are fiction or original, but when do they get the type of push The Best Man Holiday is getting? This is why I think it is worth seeing. Not just because it is a good film featuring Black people, or because it is a sequel to a classic, but because it is a good film period. One that does enough to acknowledge these are African-Americans we are seeing, but in a Cosby Show way so that it isn't trying to alienate a general audience, and speak to more than simply the skin color, and backgrounds, of the cast. Truly, I hope this film inspires another renaissance, for we are badly in need of one.

…

Collapse

Best Man Holiday picks up where Best Man left off. As a person who embraces diversity especially through film, I enjoyed every twist and turn

Best Man Holiday picks up where Best Man left off. As a person who embraces diversity especially through film, I enjoyed every twist and turn that the film director gave viewers. IF you enjoy humor, sexual innuendos and rekindling and heeling of friendship bonds then this film is for you.

…

Expand

It´s a film, slow of time how someone can produce such garbage?the problems of this movie go far beyond mediocre performances or call crap

It´s a film, slow of time how someone can produce such garbage?the problems of this movie go far beyond mediocre performances or call crap crap script and assembly, is insult people who have a brain and like to have fun going to the movies.

…

Expand