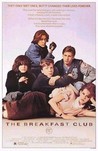 Starring:

Ally Sheedy

,

Emilio Estevez

,

Judd Nelson

,

Molly Ringwald

Summary:

We accept the fact that we had to sacrifice a whole Saturday in detention for whatever it was that we did wrong. What we did WAS wrong. But we think you're crazy to make us write this essay telling you who we think we are. What do you care? You see us as you want to see us...in the simplest

We accept the fact that we had to sacrifice a whole Saturday in detention for whatever it was that we did wrong. What we did WAS wrong. But we think you're crazy to make us write this essay telling you who we think we are. What do you care? You see us as you want to see us...in the simplest terms and the most convenient definitions. You see us as a brain, an athlete, a basket case, a princess and a criminal. Correct? That's the way we saw each other at seven o'clock this morning... - The Breakfast Club

…

Expand
Director:

John Hughes

Genre(s):

Drama

Rating:

R

Runtime:

97 min
Please enter your birth date to continue:
You are not allowed to view this material at this time.
This could have been an unmitigated disaster, but Hughes' way with the material ensured it a special place in the heart of just about everyone who happened to be in high school while Ronald Reagan was President.

Before lapsing into the land of the insipid,... John Hughes actually made a few movies that shined some light on the trials of modern adolescence. The Breakfast Club is one of them.

From the neon-sign opening titles to the derivative angst of the dialogue, it's a touchstone of '80s pop culture, and a schizophrenic one, too.

Their conversations give The Breakfast Club its snap, crackle and pop. And this is that rare movie that could benefit from another half hour of talking time. [15 Feb 1985]

Comes to the comforting conclusion that they're just as alienated, idealistic, and vulnerable as the baby boomers of the 1960s.

Hughes, though he gives the material a sense of fun and achieves several moments of genuine warmth, too often resorts to obvious cliches, stereotypes, and easy answers, and throws in the near-obligatory rock video as well.

Does director John Hughes really believe, as he writes here, that 'when you grow up, your heart dies.' It may. But not unless the brain has already started to rot with films like this.
It seems that mainstream critics completely miss the message of John Hughes' films. Similar to "Ferris Bueller's Day Off," a lack

It seems that mainstream critics completely miss the message of John Hughes' films. Similar to "Ferris Bueller's Day Off," a lack luster score doesn't give the movie the credit it deserves. Despite this, the movie is absolutely fantastic. Its well written, down to earth, and accurately depicts the cliques that run rampant in schools even in now-a-days. If you have the means of seeing this film, do so, you won't regret it.

…

Expand

I decided to review this film mainly as an excuse to see the film again (although itâ

One of the most honest movies ever made, The Breakfast Club ranks with flawless social dramas such as American Beauty.

Ok If you love John Hughes 80's flicks, You Will love this one. I don't really like the swearing from Bender , but it is hilarious none the

Ok If you love John Hughes 80's flicks, You Will love this one. I don't really like the swearing from Bender , but it is hilarious none the less. There are some real dramatic scenes with confessions but that is what makes it real. My Favorite Character was Emilio Estevez. He is very sexy football player. That knows what he did was wrong but did it anyway. This is a life learning movie. I also don't like the fact that Bender Makes fun of Brian's life just because he is a nerd. Nothing wrong with being smart. Just remember that. But the dancing scene is fun, and the classic "Running through the halls scene" Check it out and let me know what you think of this 80s classic.

…

Expand

The Breakfast Club focuses on the clichés of every high school in the 80's, but it uses them to its advantage in this social drama. The

The Breakfast Club focuses on the clichés of every high school in the 80's, but it uses them to its advantage in this social drama. The dialogue is fresh and sharp, and many a memorable line can be quoted from this movie.

…

Expand

the breakfast club is a film for melodramatic teenagers and impudent a-hole critics with absolutely no idea of what's it like to be a

the breakfast club is a film for melodramatic teenagers and impudent a-hole critics with absolutely no idea of what's it like to be a teenager. because clearly it all comes to down generations and generations pass from one era to the next era. in the end, this film has a very abused message with foul mouthed stereotypical teenagers who have few similarities to reality and a director he lives under a rock. the breakfast club is possibly the worst teenage film ever, john Hughes worst film of all time, and one of the worst movies I have ever seen in my young life. in other words it is a mutant abomination bred by poor directing and crude humour and a true disgrace to the cinema itself.

…

Expand