Release Date:

May 2, 2003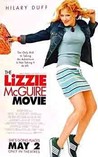 Starring:

Adam Lamberg

,

Clayton Snyder

,

Hilary Duff

Summary:

Disney serves up the comic foibles of lovable Lizzie McGuire and her pals, who all pack their bags and plan to live la dolce vita while on a class trip to Italy. When Lizzie is mistaken for Isabella (who is part of an Italian pop duo) the adventure really begins. (Disney)
Director:

Jim Fall

Genre(s):

Adventure

,

Comedy

,

Romance

,

Music

,

Family

Rating:

PG

Runtime:

94 min
Duff is a charming heroine who carries the movie cheerfully, if not gracefully--the pratfalls come early and often.

The success of The Lizzie McGuire Movie, in which Duff acts and sings while playing both her beloved character and an Italian look-alike, is probably a slam dunk. That doesn't mean it's a great movie.

Disney's big-screen expansion of their hit TV show is nirvana for the pubescent crowd.

Lizzie McGuire's "Movie" doesn't try to be anything more than a superficial escapist fantasy for fans of the show.

The movie, with all its brashness and crassness, can still claim noble motives in encouraging insecure young people to seek the pop diva buried deep within.

If your kids are too young to sit unsupervised, get together with other parents and pay an older sibling or sitter to go.
I loved this movie and it's soundtrack!!! and i also love hillary duff, she is so kool!!! i watched it over and over again!

I loved it and I really liked the part when Hilary Duff sang.

This score even shocks me. You would think this is got to be pure trash when actually it is pure gold. For what it is everything connects.

This score even shocks me. You would think this is got to be pure trash when actually it is pure gold. For what it is everything connects. Duff puts on a great performance and the characters don't come across as phony as i was expecting. A true surprise in a good way.

…

Expand

I should say that this movie is a total piece of dung, but it actually isn't that bad. Lizzie is very likable and that comes from the actress

I should say that this movie is a total piece of dung, but it actually isn't that bad. Lizzie is very likable and that comes from the actress who plays her. I liked it then and I like it still.

…

Expand

San Fransisco Chronicle, what the hell is wrong with you? First Pitch Black, then A.V.P., then Sin CIty?. All excellent films that you gave

San Fransisco Chronicle, what the hell is wrong with you? First Pitch Black, then A.V.P., then Sin CIty?. All excellent films that you gave zeroes, yet you give this an 100?!?!?!?! In agreement with Sarah M., Hilary is a stuck-up b...h that thinks she can act and sing, but she's a talentless moron for starring in this crap and the awful Raise Your Voice (I gave it a 2). In fact, her only decent film was the enjoyable Cinderella Story (and i didn't wanna see that because of this!). Back to the San Fransisco Chronicle, you people are just some sick bastards playing a sick Joke.

…

Expand

Hilary Duff does NOT know how to act she is always fidgeting around with her hair, putting her hands on her hips, and those lips of her the

Hilary Duff does NOT know how to act she is always fidgeting around with her hair, putting her hands on her hips, and those lips of her the way she always puts them! It gets on peoples' nerves!!! literally, this is seen in almost all her movies!!!

…

Expand

This movie was torture to watch. The script was awful. Hilary Duff's voice made me want to claw my ear drums out. As for her acting, I

This movie was torture to watch. The script was awful. Hilary Duff's voice made me want to claw my ear drums out. As for her acting, I wanted to ask the person next to me to blind my with a fork while I was watching the movie. Over all, I give this movie a big 0.

…

Expand