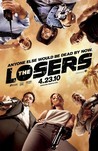 Starring:

Idris Elba

,

Jeffrey Dean Morgan

,

Zoe Saldana

Summary:

An explosive tale of double cross and revenge, The Losers centers upon the members of an elite U.S. Special Forces unit sent into the Bolivian jungle on a search and destroy mission. The team--Clay, Jensen, Roque, Pooch and Cougar--find themselves the target of a lethal betrayal instigated

An explosive tale of double cross and revenge, The Losers centers upon the members of an elite U.S. Special Forces unit sent into the Bolivian jungle on a search and destroy mission. The team--Clay, Jensen, Roque, Pooch and Cougar--find themselves the target of a lethal betrayal instigated from inside by a powerful enemy known only as Max. Presumed dead, the group makes plans to even the score when they're joined by the mysterious Aisha, a beautiful operative with her own agenda. Working together, they must remain deep undercover while tracking the heavily-guarded Max, a ruthless man bent on embroiling the world in a new high-tech global war. (Warner Bros. Pictures)

…

Expand
Director:

Sylvain White

Genre(s):

Action

,

Adventure

,

Mystery

,

Thriller

,

Crime

Rating:

PG-13

Runtime:

97 min
Please enter your birth date to continue:
You are not allowed to view this material at this time.
The movie gets the job done, and the actors show a lot of confidence in occupying that tricky middle ground between controlled satire and comic overkill. It's fun.

Still, for those who feel that too few movies these days offer the pure bliss of a testosterone overload, The Losers provides an antidote.

Don't ask for much, and your expectations will be met. Why invest anything as extraneous or irrelevant as "thought" into such a transaction?

Providing expectations are kept low, there's some fun to be had in the elaborately preposterous action set-pieces, and especially Jason Patric's campy performance as the movie's villain.

The first dumb-fun action movie of the summer season has arrived early with The Losers, a loud, loving homage to guns and testosterone based on a series of comic books about a renegade band of CIA operatives. How dumb is it? You might actually kill a few million brain cells just watching it.

Whether you're betting on action or laughs, this is a lose-lose scenario.

This movie -- G.I. Joke, The D-Team -- tries to do so little, and yet falls so short. A clue comes when the girl asks Clay, "How's your steak?" and he replies, "Meaty." Simple enough to achieve in theory, but this would-be treat for cinematic carnivores is a sawdust sandwich.
i purchased a copy of The Losers,and found it to be such a great movie, that when my copy was borrowed and i hadn't received it back after a

i purchased a copy of The Losers,and found it to be such a great movie, that when my copy was borrowed and i hadn't received it back after a couple of weeks, i purchased a second copy. The story is excellent and the cast is well suited for the parts. There is action, humor and I find it a very balanced movie for anyone. I would love to see the same actors back in a second movie.

…

Expand

Very entertaining and enjoyable movie ! I wasn't bored at all. There was none-stop action, added with a little bit of humor. I recommend " The

Very entertaining and enjoyable movie ! I wasn't bored at all. There was none-stop action, added with a little bit of humor. I recommend " The Losers" for those who like bad ass actions movies with smart humor and yet corny at some points.

…

Expand

A fun movie, plain and simple. The Losers understands that it is an action-comedy, not a deep, philosophy/art film, and does what it does

A fun movie, plain and simple. The Losers understands that it is an action-comedy, not a deep, philosophy/art film, and does what it does very well. I feel like The Losers pulls off what I've seen a lot of movies try to do and fail.

…

Expand

An entertaining action film with no pretension. Fast-paced and not too bogged down by characters' past problems or overblown romance scenes.

An entertaining action film with no pretension. Fast-paced and not too bogged down by characters' past problems or overblown romance scenes. Just the right amount of weaponry, explosions and bravado to keep the plot moving. A fun time.

…

Expand

Its plot may be inherently incomprehensible and some of its dialogue may be a bit silly, but its cast of lovable characters make this action

Its plot may be inherently incomprehensible and some of its dialogue may be a bit silly, but its cast of lovable characters make this action movie pretty entertaining to watch.

…

Expand

Shallow but highly entertaining action flick that is fully aware of its own ridiculousness and has fun with it, personified in Chris Evan's

Shallow but highly entertaining action flick that is fully aware of its own ridiculousness and has fun with it, personified in Chris Evan's character. Whenever there is too much slow motion or cool guys walking away from explosions the film makes you groan, but then there is always a fun scene to make up for it. Guilty pleasure entertainment, but entertainment none the less.

…

Expand

There is nothing wrong with the premise of the film, despite lacking any semblance of originality. But by trying to condense so many ideas

There is nothing wrong with the premise of the film, despite lacking any semblance of originality. But by trying to condense so many ideas into a summer blockbuster length movie it feels rushed and disjointed. The characters are all one-dimensional and the plot doesn't even attempt to resolve itself, which is obviously to pave the way for a sequel. Nobody is expecting much in the way of authenticity with this sort of film but you want to actually feel some attachment to the main protagonists. For a film that emulates the A Team and James Bond it pales in comparison. It is the production that really lets this film down, along with the ham-handed acting of Jason Patric as the over-the-top villain. This is a disappointing blemish on the careers of some very capable actors.

…

Expand