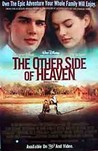 Starring:

Anne Hathaway, Christopher Gorham

Summary:

This romantic coming of age story is based on the memoirs of John H. Groberg, who served as a missionary in the remote Tongan Islands in the 1950's. (Excel Entertainment Group)
Director:

Mitch Davis

Genre(s):

Adventure, Biography, Drama

Rating:

PG

Runtime:

113 min
Captures a breathtaking exotic landscape cluttered only by the smugness of its characters.

A tad preachy and more than a little bit sanctimonious.

Earnest, fact-based drama is marred only by the fact that it wants desperately to save your soul.

The film is supposed to be about tolerance, but the only acceptance comes in terms of how the islanders accept the Mormon teachings. Somehow, that doesn't quite feel divine.
I thought this movie was more than preaching about LDS (mormon) view points; is a good old fashion movie about faith, hope and love and I thi

nk its to bad that the anti-mormon/christian media cannot accept a wholesom movie that is lacking in sex, violence and profanity.

…

Expand

It was a wonderful movie but it makes me homesick for my Island.

I very much enjoyed this movie, as it DID provide wholesome family entertainment that refrained from the use of violence, sex, or profanity.

However, I feel that I must point out to those who did not enjoy the movie, that this was not "Mormon" propaganda, as no one forced you to watch this, and that the film was intended, not limited to, but for Mormons. It was a film that was intended to tell a story about service and self-sacriice, not one of preachiness or "propaganda".

…

Expand

Patronizing, obviously fictional bull!@#$. I agree with most of the real critics on this one.