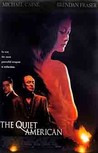 Starring:

Brendan Fraser

,

Michael Caine

Summary:

From the classic novel by Graham Greene comes a murder mystery centered on a love triangle set against the French Indochina War in Vietnam circa 1952. (Miramax)
Director:

Phillip Noyce

Genre(s):

Drama

,

Thriller

,

Romance

,

War

Rating:

TV-MA

Runtime:

101 min
Please enter your birth date to continue:
You are not allowed to view this material at this time.
As thoughtful as it is handsomely acted. Caine's subtle, bold performance should guarantee him an aisle seat on Oscar night.

It is a film with a political point of view, but often its characters lose sight of that, in their fascination with each other and with the girl.

Star Michael Caine, who gives one of the great, inescapably moving performances in a career filled with them, based his character on personal impressions of the late author. And Greene's lifelong concern with moral ambiguity gives this film a texture and complexity that movies don't usually achieve.

One of Caine's meatiest roles, and he handles it with power, humanity and remarkable emotional fluidity; from the opening moments, an enormous amount comes through his eyes alone.

This is intelligent grown-up entertainment on both a political and a humanistic level.

As is frequently the case when there is public fuss about a film or play, the work itself is not very good.
A truly wonderful exercise in subtle brilliance, The Quiet American is a fantastic look at Vietnam before American forces arrived and really

A truly wonderful exercise in subtle brilliance, The Quiet American is a fantastic look at Vietnam before American forces arrived and really provides a compelling look at colonialism vs the rise of communism and the role America played. A subtly put together film, The Quiet American feels cut from the same cloth as something such as Casablanca, which I was not expecting. An oddly romantic love letter to the escape Vietnam provided for some, The Quiet American is also incredibly romantic in a more traditional sense with a truly engaging look at relationships forged during such troubling times. The subtle direction from Phillip Noyce is fantastic as is the very good writing that does a great job crafting these characters. As for the acting, Michael Caine turns in an absolutely phenomenal performance. It honestly may be one of the best performances I have been blessed to see. Brendan Fraser does very good as well when faced with the impossible task of out-acting Caine. Overall, The Quiet American is a truly engaging film that is very nuanced and incredibly subtle. To me, it feels like an old-time film that somehow got made in 2002 and thank God for that.

…

Expand