Release Date:

Oct 11, 2002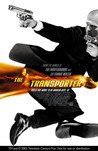 Starring:

Jason Statham

,

Matt Schulze

,

Qi Shu

Summary:

Dangerous complications ensue when a former U.S. Special Forces soldier-turned expatriate mercenary is hired to kidnap the feisty daughter of a lethal Chinese cook who's smuggling his fellow countrymen into France.
Please enter your birth date to continue:
You are not allowed to view this material at this time.
The best movie Steven Seagal never made. Except that Statham, while just as marked for death, is harder to kill.

A poke in the adrenal gland -- obeys the first law of action movie-making by quickening the heart and dazzling the eye.

There's plenty to like here, especially for connoisseurs of the action genre, and there's also plenty to make you wonder whether Besson and co-writer Robert Mark Kamen scribbled their screenplay on a batch of Marseilles cocktail napkins and then lost one or two.

What's most disappointing is the almost utter lack of humor -- In the mindless action sweepstakes, however, there's still enough here to place The Transporter above big-bang gibberish like XXX.

Sadly, the last 40-odd minutes are essentially one fight, pushed to the point of absurdity.

Muddles through as a film so uninterested in character, it doesn't bother assigning names to them.

That the movie becomes silly isn't necessarily a problem, but it also becomes tiresome, degenerating into a series of martial arts interludes -- everyone unaccountably leaves his guns at home.
Is Transporter an oscar worthy film? No, definitely not. Is it the best action trash I've seen this year? Yes. It's a slick, sexy package,

Is Transporter an oscar worthy film? No, definitely not. Is it the best action trash I've seen this year? Yes. It's a slick, sexy package, that deserves a rewatch. It's mind blowing. Watch it, you deserve something cool this season.

…

Expand

This film is one of the best films, but how Jason Statham plays, getting better and better. .

This movie was action packed. Jason Statham really proved his acting skills in this movie. The second part was not nearly as good as this one.

This movie was action packed. Jason Statham really proved his acting skills in this movie. The second part was not nearly as good as this one. Looking forward to seeing part 3 instead.

…

Expand

A good action film. I like how the protagonist is brutal and does a criminal job but still acts like a gentleman and lives under his own

A good action film. I like how the protagonist is brutal and does a criminal job but still acts like a gentleman and lives under his own rules, he has made.

…

Expand

the transporter is a very good action film with awesome action sequences and a killer performance from Jason statham despite its narrative jumble.!!!!

The Transporter is that clichéd fall blockbuster that you can't help but like a little bit, despite it's many letdowns. Statham is the man

The Transporter is that clichéd fall blockbuster that you can't help but like a little bit, despite it's many letdowns. Statham is the man here; he's just found himself in weaker material than he's used to.

…

Expand

Man delivers stuff in the South of France, no questions asked, friends with Police Detective, meets pretty Chinese lady who was his "cargo",

Man delivers stuff in the South of France, no questions asked, friends with Police Detective, meets pretty Chinese lady who was his "cargo", gets crossed by George Michael, wants revenge.
Brainless action film with the whispering Jason Statham whose accent really is something to behold. Sort of a Cockney playing an American playing a Londoner.
The action is fast, fun & far-fetched, Statham seems in his element here & it's enjoyable if you don't take it seriously.
Not sure how the truck kept it's speed when they were fighting though?

…

Expand