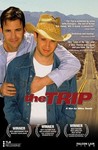 Summary:

A portrait of a love story spanning two decades between a gay-rights activist and a conservative journalist during the 1970s and 1980s.
Director:

Miles Swain

Genre(s):

Drama

,

Comedy

,

Romance

Rating:

R

Runtime:

95 min
Please enter your birth date to continue:
You are not allowed to view this material at this time.
Swain balances the personal and the political, allowing his film to be intimate while keeping a larger perspective. It is refreshing to see people on screen who are living in a real world.

If the film had allowed them to fall in love in real time, instead of to the drumbeat of history, their relationship would seem immeasurably more nuanced.

Call it a weepy for the gay community:The Trip is an oddly marketed, oddly titled romance. Yes, there is a trip, but it takes place during the last 15 minutes of the film and seems almost tangential.

The story's third-act detour into tragedy is predictable and unwelcome, providing a resolution that is too pat and familiar to be moving.

It doesn't help that Sullivan has twice as much screen time and half as much charisma as Braun.

The cataclysmic changes in attitude and lifestyles the characters pass through at irregular intervals from 1973 to 1984... seem to consist wholly of changes in hairstyle that look as wildly stereotyped and inauthentic as the gestures and lines that accompany them.

It is never a good sign when the audience is two steps ahead of the characters on the screen. Waiting for them to catch up wears everyone out.
Beautifully written, warmly touching, funny and smart. It was win, win, win, for me and this movie. Seen it ten times and will probably see it

Beautifully written, warmly touching, funny and smart. It was win, win, win, for me and this movie. Seen it ten times and will probably see it ten times more.

…

Collapse

At first sight it's an impossible love. Alan is a Republican journalist with ditto thoughts, Tommy is a gay rights activist. They meet

At first sight it's an impossible love. Alan is a Republican journalist with ditto thoughts, Tommy is a gay rights activist. They meet when Alan wants to know more about homosexuality, since he is writing a book about that subject. Even though their political opinions are very different, love flourishes. Alan's book doesn't get published. The two are in a stable relationship that already lasts for a few years, when the book is published after all without Alan's consent. It turns out the book is very negative about homosexuality. The solid relationship bursts. Some years later. Alan is living with his dominant boyfriend Peter. He is told that Tommy is seriously ill. At first Alan doesn't want to visit Tommy, but his mother and his best female friend persuade him to go. When they meet again it is obvious they are still in love with each other. To let Tommy die at his parents house they drive to Texas. But they will never make it to their destination. The Trip covers a few years: the story starts in the seventies and ends in the eighties. To create the typical seventies atmosphere, the brillant director Miles Swain used film equipment from the seventies. The film gives a nice image of the political situation and acceptance of gays in that period. The story lines about friendship are very well written and played. Jill St. John's roll as Alan's mother is very amusing. The Trip is a serious and at the same time funny film.

…

Expand

Some of the worst writing and directing I've come across. You can only pity the actors who seem to be biding their time until they can

Some of the worst writing and directing I've come across. You can only pity the actors who seem to be biding their time until they can get the hell out of there. Shame Shame Shame.

…

Expand